मारूति इग्निस यूजर रिव्यू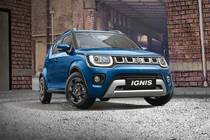 Rs. 4.89 - 7.19 लाख*
*एक्स-शोरूम प्राइस
नई दिल्ली
मारूति इग्निस यूज़र रिव्यू
All (333)
Mileage (95)
Performance (41)
Looks (114)
Comfort (95)
Engine (78)
Interior (62)
Power (54)
More...
LATEST
HELPFUL
VERIFIED
CRITICAL
Very stylish and nice car features are very activity and comfort and small family and a nice car. This lower price and the very safety car is well stylish and looking very hot. और देखें

Maruti Ignis is my love as it is a very comfortable car and looks beautiful with its top model 2020 chrome is very attractive and airbags also provide safety to the driver and passenger. It has attractive colours and also provides a kind of attraction. और देखें

Best car in its segment with a stronger body and have best ground clearance in its segment, only the disadvantage is that it's little bouncy due to high ground clearance. और देखें

Definitely a great and the best car for a small family. I get mileage of 22 kmpl which is super, big wheels and high ground clearance, allows me to drive it in rural areas without any tension of potholes, comfort and convenience are almost very good. Shock absorbance and body quality are 90 to 95% satisfactory. So if you are looking for a small but...और देखें

Maruti Ignis is an excellent car with all features. A premium car with apple car play and android auto. It is low-cost maintenance in the good in the city.

It is a nice looking car, the exterior looks are good and the interiors are quite nice.

Terrific power with a very silent cabin. Very fun to drive the car. We have a delta manual transmission, which gave us a very good mileage of 15 to 16 kmpl in city and 19 to 21 in the highway. The cabin is very roomy inside and is compact outside. Its look is very much impressive, especially the front and side view. I recommend it to buy,m instead ...और देखें

Very good design and awesome performance. Good braking and good handling.

Top class car medium quality user well done personal or family car well lock or no extra be done 

Descent looks with impressive fuel efficiency. Residual value might be a flaw and to summarize its a "simple city car"

It is a comfortable and stylish car. Ignis is quite safe with 3star ratings. I can drive it hassle-free as the features are given wonderful.

Awesome car with a  very smooth and comfortable engine performance for a long drive. Spacious and more features in this price segment.

Maruti Ignis has a very fuel-efficient car with high ground clearance. Superb packed with features at affordable prices.

Nice comfortable car with a great music system. Ground clearance also very good. Steering is good and the driving experience is very comfortable.

Proud Owner of Maruti Suzuki Ignis 1.2P Zeta:- Ignis's look might not be as appealing as compare to other cars in this segment, but let me share the exprience with this beauty. Ignis is made to perform as an all-rounder. You can feel the peppiness while driving dur to its low kerb weight, but it doesnt looses your confidance while driving on highwa...और देखें

Maruti Ignis is an amazing car, very lightweight, spacious and comfortable, smooth and good handling and brakes are also very soft. Clutch and race are good excellent gear designs of interior it take low maintenance and it is the best car for the city. It has good pickup you can also take for long-distance material used in this is of good quality. ...और देखें

Great car that delivers an ultimate mileage of 18-20kmpl.

Superb car in its segment, good car for urban use.Good ride quality handling & comfort.

This car is the best in the segment and better than Baleno. Its interior quality is much better than Baleno.

Maruti Ignis is an excellent car with good driving experience. Low maintenance cost car. Also, getting excellent comfort and mileage in this car. 

As a proud owner of Maruti Ignis, I would like to share that I have never been more happy with Maruti until I owned Ignis. It all started with research and tallying budget and features of cars falling under the category. Of all the cars security were my priority and that's what I got in Ignis even in the base model I got two airbags and ABS with EB...और देखें

Maruti Ignis is comfortable as SUV, cabin insulated as a sedan, easy to drive, funky, fuel-efficient. Best in class, eye-catching, better than its competitor. Well tuned suspension, high ground clearance. और देखें

Great first car. A good car for the city and averages 21 to 22 kmpl. The only issue is its a bit choppy when it comes to the ride. It's not bad on the highway but city potholes will break your bones. Apart from that its spacious for its size and a fun car to drive और देखें

This is an excellent car with amazing features. Also, the mileage of the car is great.

I drive 2000km in Nepal hill terrain plain everywhere. Mileage got approx 20kmpl. Power is great ac work on uphill also. Due to high ground clearance, it never stuck on bad road. और देखें

The car is amazing, with low maintenance cost and great mileage.

Best car, best ground clearance, best budget car, 1st problem milage only 11 kmpl. Yes, 12 kmpl is very low when compared with other segment cars. 2nd problem back design. I have delta red closure 1.2 petrol best car. और देखें

Maruti Ignis is loaded with all basic features and driving is so smooth compared to other cars in this segment. Love this car.

Maruti Ignis is loaded with all basic features and driving is very smooth compared to other cars in this segment. Very nice car.

क्या आप उलझन में हैं?
अपना प्रश्न पूछें और 48 घंटों के भीतर जवाब पाएं।
User Reviews on इग्निस Alternatives
*नई दिल्ली में एक्स-शोरूम कीमत
यूजर्स द्वारा इन्हें भी देखा गया