रेनो कैप्चर यूजर रिव्यू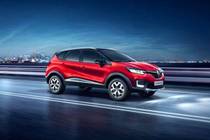 79 reviewsअभी रेटिंग दें
Rs. 9.5 - 13.0 लाख*
नई दिल्ली में *एक्स-शोरूम कीमत
रेनो कैप्चर यूजर रिव्यू
All (79)
Mileage (13)
Performance (11)
Looks (23)
Comfort (26)
Engine (10)
Interior (19)
Power (14)
और...
Renault Captur is so beautiful and comfortable car, I had a drive to the airport from Renault Captur.

Renault CAPTUR. Traveled 14000kms in six months in 4 states without a single puncture. Excellent performance, comfortable, driving pleasure.

Renault Captur driving is marvelous and its mileage is also good. The comfort level of the car is good but the music system is outdated and a sunroof is missing.

Renault Captur is a stylish SUV. After driving Compass I find this car a driving pleasure, the compass always wanted to be more throttle. Capture LED headlights are far s...और पढ़ें

Renault Captur is strong Body car moreover it is one of the powerful driving pleasure cars.

Renault Captur gives an excellent driving experience moreover its pickup is also good.

Yes, I am fully satisfied with my Captur. Excellent performance milage thrilling off-road, hill station drives n usual office trips as well. It's a value for money car. R...और पढ़ें

Renault Captur is a 5 seater luxury SUV segment car it gives  Smooth driving and final pickup.

The diesel version of this car is having noise from the turbo, I have observed this kind of noise only in this car no other manufacturers have this problem. I strongly re...और पढ़ें

I BOUGHT IT 4 MONTHS BACK. IT IS NOT A/C VEHICLE IT IS ONLY SEMI A/C VEHICLE. AND MILEAGE ALSO 15KM. WHEN WE DRIVE CONTINUOUSLY 4 HOURS IN DAY TIME A/C WILL COME DOWN DRA...और पढ़ें

car looking was awesome and everything is superb except its interior quality and back seat are not comfortable for journeys.

Excellent driving experience Unique design Attractive exterior and interior Different sensor give wonderful experience Smooth long driving No tiredness Very nice car I am...और पढ़ें

Very nice car. If you want to go for quality, go for Renault Captur. But if you mind money, then you can buy any cheaper car but don't complain about Captur. It's really ...और पढ़ें

I purchased 110 ps in 2016. Less to 30000 driven. Price was 13 lacs. Now in markets, nobody's ready to buy even at 6lacs No accidents, no claims, fully insured single and...और पढ़ें

Renault Captur is really awesome while driving and a fully loaded vehicle with very good features. The car lies in an economic budget for common people.

I have taken test drive on off road, Wonderful performance. Excellent suspension, music system, drive, comfort, etc. Renault Captur is a great car.

Captur is the most stylish car in its segment beating Creta in looks. So many features available in this price range. Awesome I thought and had real good experience. Wort...और पढ़ें

I have purchased Captur nine months back RXT model. Car is very comfortable on long journey very much comfortable. I have driven the car nearly 14000 km no problem at all...और पढ़ें

I have taken this car 1 month ago. This car is fantastic car for the people who like long driving. Performance of the car is excellent. I short listed this car because i...और पढ़ें

As a previous owner of the Duster (85ps) i knew the positives of this car, and now when the Captur was launched with the Duster platform, i was quite serious about this c...और पढ़ें

With an attractive and unique design, the Renault Captur is indeed a car to watch out for on the Indian roads. It is sturdy and powerful enough for Indian needs, spacious...और पढ़ें

The Renault Captur is a car with quality and feather smooth drive. Ground clearance is amazing  and it provides powerful driving experience with fuel saving eco mode opti...और पढ़ें

I have been driving this car since Feb 2018 and have clocked 6k plus including a trip to Udupi from Navi Mumbai. Very comfortable drive ( same feedback from co-passengers...और पढ़ें

What a car!!!! I took almost 2 months before deciding to buy this car. Took test drive of Hyundai Creta, Mahindra XUV500, Jeep Compass, Ford Ecosport, Honda WR-V & Maruti...और पढ़ें

At first I thought, Captur would just be like Renault Duster because it is made on the same platform but when I checked it out I realized that it was far more premium and...और पढ़ें

Buy Captur if you want to get an SUV with amazing features, a great engine and suspension, spacious boot and a fun, non-tiring driving experience. I am totally amazed by ...और पढ़ें

Captur is the car you want to buy if you want a great combination of looks, features, premium offerings and SUV powers. This car is absolutely awesome and beats every oth...और पढ़ें

Captur is an amazing SUV. I heard that it was made on the same platform as the Duster and that made me take a test drive. I have to say that it is really more premium tha...और पढ़ें

Are you Confused?
48 hours में Ask anything एंड get answer
अधिक कार विकल्पों पर विचार करें
कैप्चर विकल्प पर उपयोगकर्ताओं के रिव्यू
Rs. 9.6 - 15.65 लाख*

based on 1069 यूजर रिव्यू

Rs. 7.9 - 12.14 लाख*

based on 1582 यूजर रिव्यू
*नई दिल्ली में एक्स-शोरूम कीमत
यूजर्स द्वारा इन्हें भी देखा गया
1 ऑफर
Drive होम रेनो कैप्चर Starting एटी Rs. ...
7 दिन बाकि