फॉक्सवेगन वेंटो 2015-2019 यूजर रिव्यू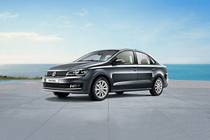 Rs.8.64 - 14.34 लाख*
इस कार मॉडल की समय सीमा समाप्त हो गई है
फॉक्सवेगन वेंटो 2015-2019 यूज़र रिव्यू
सभी (336)
Mileage (54)
Performance (36)
Looks (60)
Comfort (66)
Engine (49)
Interior (32)
Power (39)
और...
I have purchased my car few months before. I have made lot of search on internet, took lots of test drives, online comparisons, customer reviews and practical feedback from true users. As I was looking for economical & comfortable sedan for my parents, I have looked for comfort, easy & effortless driving, safety, intact built in quality, go...और देखें

I bought my Vento last year when I was graduating from college. Talking about power it has a mind blowing pickup. I've modified it to use it for street racing and I've won every single time. Well, let's just say I'm inspired from Vin Diesel. The interior cabin was ridiculous and I had to spend 90 grand just to upgrade it. The interior space is dece...और देखें

The car is extremely well built, with a timeless and understated design. It isn't brash, in your face like the Hyundais and Suzukis, nor is it a brute like the toyotas or mahindras. For its segment, I find the look to be the least crying-for-attention. A grown up car, in other words. Pain quality is top notch, although the clear coat could have bee...और देखें

The Polo and Vento have received a lot of attention from Volkswagen in the last two years. The Vento now gets the familiar VW face. It looks more like the Jetta now. The Vento now gets more prominent creases on the hood, which by the way, has grown in length. The grille is now bigger than before, and wider, too. The bumpers have been redesigned, as...और देखें

I Bought Vento one of the most popular car in the country with best deal. Car is in excellent condition. No Doubt vent is one the best Car. Happy With the deal got on car dekho.और देखें

It was my long dream to own a sedan , during that time I heard Volkswagen Vento is going to launched in India. During my kids age I was told that my grandfather use to own Volkswagen, from that time I thought of having one. And finally my dream come true in 2010 December i am a proud owner of Vento.I am using my car since 6 years, its really tough....और देखें

Volkswagon Vento Highline 1.6 Diesel MT Reviewing after using 4 years and 80,000 kms Rating (Highest - 10, Lowest - 1) #Performance Acceleration :- 9 Does the job over 1500rpm Braking :- 9 Steering :- 9 Equally weighted Handling :- 10 Driveability :- 8 #Comfort Seating Comfort :- 7 Back seat tiring for long route, front ...और देखें

Everyone thinks the car purchased is truly a worth for the price especially in a country like India. Just check out the volkswagen for its built quality, strength and nicley crafted interiors. Outside the exterior look may be simple elegance but interiors are luxury with steering mounted controls, high quality music system, no other car offers in t...और देखें

Best Economical Affordable Sporty Trustworthy I am owning this car since last 3 years, and there is not a single day i can resist driving it. Its Built Quality is class apart, let it be the Plastics used in the interiors, or finishing on the outside. The ride quality is also good, the suspension is especially adjusted according to the Indian...और देखें

Volkswagen Vento is a treat to drive for those who prefer a much-gripped drive, the drive is a sturdy, it really holds the ground and is stable. The interiors are pretty much standard for the price, the gear is swift and smooth. The build quality is great, but the thing that worries me is the cabin noise, it is just too much, it is loud enough to d...और देखें

I am driving Vento Highline Diesel from last 3 years with great satisfaction. The vehicle is sturdier ,compact and gives the feeling of security which is very important when you are driving on highways with your family. Good average , great comfort, very less cabin noise as compared to its peer. Steering and gear box are all excellent, pick up is g...और देखें

In 1930 designer 'Ferdinand Porsche' creative is the People's Car. With an elegant look interior & exterior and smooth finish body. A racer likes its pickup, a employee likes its luxury and a retired loves its comfort. Every thing is fine except the maintenance cost is too high. So not suitable for middle class group of people. So the name shou...और देखें

I own a 2011 VW Vento Diesel (1.6 TDI highline). It is build to last inside out. I have bought this in 2011 and it just looks like it has been about a year or less despite my long parking under the sun. I have not seen this with any of my other cars. The interiors are rattle free even in the sixth year. The usual complaint has been with the door be...और देखें

Well, this was my first car and I started off looking at my options in the entry level segment as in the likes of Alto and Eon. After taking each of them for a testdrive, I was sure that this was not what I wanted. Moved on, tried the i20, well it's a very comfortable car but obviously the petrol version is not for enthusiasts and yes quite expensi...और देखें

I like design,build quality,pick up and powerful engine.Volkswagen is famous for creating some best in class cars and here Volkswagen Vento is a challenge for other manufactures.Vento is a huge attraction for Indian buyers because of powerful engine and fuel economy which is a perfect balanced combination is difficult to find in any other car of it...और देखें

It is a wonderful car.. has a very good pickup and gives good mileage... The most important thing is, that it is the safest car of its segment...

Volkswagen vento is initially designed for Indian Market and Indian roads, WV do not have sedan cars of lower capacity of 1.6 liter. VW sedan cars are 2.0 liters and above before lunching Vento. It has went throw the many steps of evolution feature wise. This is sold in India, Malaysia and Mexico under the name Vento, and in Thailand, Indonesia, So...और देखें

The German car maker is definitely doing good in keeping the quality and after sales service on top of their list. I am talking about the mid sized Sedan Vento, the top of line Diesel model is quite exiting to drive. Put the pedal down and the experience you would have is awesome, the Turbo kicks-in at around 2000 rpm and then the car just fly's on...और देखें

When I was looking for a car to suit the stature of my businessman uncle, the choice was not as tough. The Volkswagen Vento provided me with everything he would want in his car: The looks, the features and the color- all summed up to him as perfect. To begin with, I was quite apprehensive about buying a foreign car. I mean, isn't the servicing cost...और देखें

Our prized possession VENTO TDI is a performance car and has been our companion since past 5 years and its sheer silver beauty with power is a unique combination. Vento of VW gives you the sense of power at such competitive cost and gets you used to its outstanding on-road performance and that always gave me a sense of safe & secured feel. Our ...और देखें

This was my first car I bought when I moved to india, was a fantastic car for me, leather seats, bluetooth audio, aux, usb, fast and comfortable. Never had a problem with the car, kept it in good condition. The car has treated me well and kept me safe for a number of years, even though it has not been driven much, only 38338km done. Will be sad to ...और देखें

This car vento 1.6 is a good car but it doesn't feature any extraordinary features like rear view and all...the car is fun to drive but it's not that much smooth on road like the new 1.5 vento...overall it's a good car because it's fuel efficient also...it's a good strong built car with 2 airbags...and it's a good car at rs.800000 to rs.1100000...i...और देखें

Volkswagen vento one of the best budget cars and superb car design with all the safety views the making of its body let me clear only body is so durable that all the other safety features come at second this car is a tough car with all the new features its a good car a real sedan. Its working its pickup is tremendous and a good ride for long route....और देखें

I have been using this car for more than 5 years now. VW Vento is a amazing car which will address a fabulous driving experience with loads of safety features. Durability of the car is great on extreme conditions - During Chennai floods i was in office and had no issues going back home - with road filled with water. Depth of engineering in this car...और देखें

Volkswagen Vento is such an amazing car for me. Superb looks.. Quite Sporty and Luxurious too. DSG gearbox is quite responsive and ride is also very smooth as compared to manual transmission. Mileage in City : 15-17 kmpl Mileage on Highway : 20-22 kmpl (with proof) Maintenance never becomes an issue for a owner when they care about their cars. Ran ...और देखें

Exterior styling is elegant. It's the same with Polo and Vento that's a big setback. There should have been a difference. However, one good thing that people can see is that Volkswagen doesn't keep badges based on trims like other car brands like Vxi, V, S, etc, that's actually good as most of the premium car manufacturers doesn't do that. Interior...और देखें

Look and Style: It looks Stylish with a Solid built. The basic design used is simple, it being a German car known for its simplicity and best quality. It has excellent looks. Comfort: The quality of material used for the interior is good. No cheap material has been used. It is very spacious. Music quality is good. Pickup: It has a very Good Pickup....और देखें

I recently bought the New Vento TSI Comfort Line model. I can say this is the best car in C segment. Paid 11.4 Lakh on road price + 1.8 Lakh of addons of my choices. Look and Style: I like understated design and Vento is perfect. The new facelift makes the car look like Passat from the front view and people turn their head easily than I had expecte...और देखें

Look and Style: Very great looking car in its segment. New Vento does look excellent with chrome grills and new fog lamps. Comfort: Very comfortable for the long journeys. Pickup: Gr8 pick up with 1200 cc engine. Mileage: Excellent average with such a performance. Best Features: 7 speed DSG gearbox is awesome. Needs to improve: After sales service ...और देखें













Not Sure, Which car to buy?
Let us help you find the dream car
Rs.9,46,500*ईएमआई: Rs.20,541

22.27 किमी/लीटरमैनुअल

Rs.9,99,900*ईएमआई: Rs.21,686

22.27 किमी/लीटरमैनुअल

Rs.1,167,298*ईएमआई: Rs.26,381

21.5 किमी/लीटरऑटोमेटिक

Rs.11,83,000*ईएमआई: Rs.26,751

20.64 किमी/लीटरमैनुअल

Rs.1,198,500*ईएमआई: Rs.27,094

22.27 किमी/लीटरमैनुअल

Rs.12,53,300*ईएमआई: Rs.28,310

20.64 किमी/लीटरमैनुअल

Rs.12,62,064*ईएमआई: Rs.28,507

20.64 किमी/लीटरमैनुअल

Rs.12,81,000*ईएमआई: Rs.28,936

20.64 किमी/लीटरमैनुअल

Rs.13,00,087*ईएमआई: Rs.29,369

21.5 किमी/लीटरऑटोमेटिक

Rs.13,10,000*ईएमआई: Rs.29,594

21.5 किमी/लीटरऑटोमेटिक

Rs.13,24,500*ईएमआई: Rs.29,913

22.15 किमी/लीटरऑटोमेटिक

Rs.13,77,600*ईएमआई: Rs.31,108

21.5 किमी/लीटरऑटोमेटिक

Rs.1,434,000*ईएमआई: Rs.32,363

22.15 किमी/लीटरऑटोमेटिक

क्या आप उलझन में हैं?
अपना प्रश्न पूछें और 48 घंटों के भीतर जवाब पाएं।
ट्रेंडिंग फॉक्सवेगन कारें
पसाट 2023

Rs.30.00 लाखसंभावित कीमत

अनुमानित लॉन्च: अप्रैल 01, 2023

पोलो 2023

Rs.8.00 लाखसंभावित कीमत

अनुमानित लॉन्च: नवंबर 15, 2023
पॉपुलर कार इंश्योरेंस कंपनियां
नई दिल्ली में *एक्स-शोरूम कीमत
×
We need your सिटी to customize your experience