टोयोटा इटियॉस : My पहला और Perfect Family सेडान
Toyota Etios : My first and Perfect Family Sedan
I had a several options in India market when I decided to buy a car for my family. My family member said big "NO" to hatchback cars. Though i have a big interest on Baleno/Tiago/Polo , I looked at compact Sedans without keen interest. I could not give up Baleno (Diesel) after Test drive and Loved the Design and its features. First option: VW- Ameo I liked the advanced features like Cruise control,15" inch alloy wheel ,Rain sensing wiper and retractable OVRMs. but it was very compact. The quality of the Vehicle was not like POLO and vento. I felt Ameo is not worth for money . Though it 3 cylinder engine, its EF is too low in this segment and Service cost is sky high. So decided to move out of VW. Second option: Tata -ZEST The next car in this segment was "Tata Zest" . The first look was not much impressive and NVH is too high. I heard that After sale service was also not good at Tata. So, I unchecked Tata-Zest from my car list.   Third option: Swift- Dezire First of all , i did not like that hanging boot in swift Dezire. Also Back seat leg room was too compact. Also ,I want something not much familiar , economic and premium to the India roads. so i removed the Swift Desire.   Fourth Option: Honda - Amaze This is one of the good looking car in this segment with adequate space inside cabin. I feel this car is under tyred (14" inch wheels) . Also with full safety options like ABS ,EBD and Dual Airbags , On road price comes around 9.25 Lak for diesel variant. Also do not like the much cabin noise.   Fifth option: Ford - Figo Aspire I liked the design ,mileage and power of the car. The car gets almost full option in its Titanium variant. I felt it very very compact for my family. Also this car is under tyred (Only 14" inch wheel) . That looks very Odd. Also my friends say "No" to Ford because of its service cost.   Sixth option: Baleno (Again :) ) Since I could not give up this car for its design , once again i went for test drive and decided to book the Zeta (Diesel) variant on next day. I loved the 16" inch Alloy wheel, Retractable ORVM,tinted glass and Design. Also Suzuki is well-known for it after sales-service. I am ok with its light weight and issues in back shock absorber ( RnD through online and Friends).but Again , Family members refused for half-cars (Hatch).   Also test- drove the next segment cars like Honda city , Vento, Rapid, Verna and Fiat Linea. Since I need a Diesel variant and considering maintenance cost and mileage , These cars were much more than my budget.   Seventh option: Suzuki - Ciaz I would say that CIAZ is the perfect option , if you look for Millage, Medium maintenance, Spacious and features. VDI+ variant seems to be matching for my requirement. I do not see any flaws. I gave more priority for this car.   Eight option: Renault - SCALA . I headed the Renault showroom twice for inquiring about SCALA for its spacious interiors .The salesmen were busy with selling KWID and Duster . Vehicle is also not available. I could not explore it.   Ninth option: Toyota - Etios Already researched the lot about Toyota-Etios. Design, performance ,space ,millage and very very low maintenance cost was turn my eyes to Toyota. Only thing made me hesitated was its "TAXI" image. After heard about its face-lift , i just went for a look as my friends forces me. When I looked at Etios, Front and back profiles was almost changed and interior looks awesome .I liked that dashboard ODO and rear center Arm-Rest. The car looks bit premium than its older version . Safety features was also impressive. Moreover i liked the performance and durability of its D4D engine. At last ,Toyota has come back with better competitive vehicle for family buyers. When i tried the test-drive ,I felt no NVH and no clatter sound inside.   Now It was a very hard time for me to decide "CIAZ" or ETIOS.   Considering budget ,design, features and below points, My heart says "CIAZ VDI+" but my brain says "ETIOS - VD".   After 3 month of research with several car owner , Taxi drivers , Internet and Driving schools , i could conclude the below points between CIAZ and ETIOS.   Practical Millage : CIAZ SHVS is the winner clearly Ciaz gives 24kmpl on Highways and 19kmpl in city Etios gives upto 23kmpl on highways and 18 in city   Maintenance: Obviously sole Winner is ETIOS. It is uncomparable with any diesel car in India   Initial cost (On Road): ETIOS VD = 9.7 Lak CIAZ - VDI+ = 10.7 Lak comparatively , ETIOS is less featured . Like No rear parking sensor , No rear AC vent .since I was ready for 5 Laks down payments only , I should opt car loan for remaining amount. My Mind say "No" for CIAZ as i need to take extra 1 lak loan.   Durability and Resale: Maruti has good resale and Durability. But compared to Toyota's D4D engine and resale value. Any diesel engine in india will step back.I have seen some ETIOS taxi and Qualies is running even after crossing 4,00,000 kilometers. I would say "ETIOS" is the winner.   On one fine Saturday day (03/12/2016),Sales officer Mr.Suraj from Coimbatore Toyota has called after official announcement of year end discount in his meeting. He told that offer can be availed up to 30K. So I went to Tiruppur branch to inquire about discounts. As I am planning for a car Loan , Sales person told about Loan offer. Loan was offered unmatchable interest rate with corporate offer 10K.My family members are too happy with vehicle design and comfort after test drive. So I booked ETIOS on Dec 5 2016 ,without any second thoughts. After Loan processing and some paper works , Vehicle was delivered on 23,Dec 2016. I drove vehicle for few hundreds KM so far.   Pros: 1. Spacious ,Performance and stability (did not feel instability ,NHV even after 150 KMPH high speed) 2. NVH is very less ( my uncle road my Etios and asked "is it petrol variant ?" - he has petrol swift) 3. Powerful AC 4. I haven't tested the mileage. Expecting around 20 kmpl. 5. Safety options like Airbag, ABD with EBD , pre-tensioner seat belt and ISOFIX mount 6. Durability , Reliability and Low maintenance   Things to Improve: 1. Okay Design 2. Moderate quality. But now it is better than Maruti cars and It's older versions 3. Lack of features like Rear AC vent, wiper ,Cruise control , Anti-pinch windows and Automatic Headlamp  
टोयोटा इटियॉस पर अपना कमेंट लिखें
1
A
abhishek thakur
Feb 10, 2019 11:54:32 PM
Bumpers are not of good quality plastic as the plastic quality of bumpers is not good and the light weight body is also not up to the mark. Door hinges start noising as you drive toyota etios on the hilly roads.
जवाब
1
R
rajesh m
May 8, 2018 3:23:07 AM
genuine review
जवाब
1
G
ganesh
Jan 22, 2018 12:58:08 PM
How about the shock observer ? Is it like Innova? or Good or Ok?
जवाब
टोयोटा प्लैटिनम इटियॉस यूज़र रिव्यू
All (158)
Mileage (74)
Performance (32)
Looks (56)
Comfort (73)
Engine (47)
Interior (33)
Power (23)
More ...
Toyota Etios is good. Mileage is 22 plus in the city. No problem in the engine. Diesel engine, very silent. Comfortable and nice. Look wise not so good. Basic features. M...और देखें

Fewer features but family-oriented car. Highway, mileage is good but city mileage not happy. Would have been great if an auto AC was available. Yaris features could have ...और देखें

The car is very good and comfortable. Its design and performance is very nice with the lowest maintenance cost. Outstanding car at the low cost with very good functions, ...और देखें

Excellent car with super mileage and affordable price for middle class and excellent for travels....

It's the best car for the family. Advantages- 1. Top-quality interior. 2. Best boot space even better than Fortuner( after folding back seats),3 or even 4 people can si...और देखें

I bought this car on Jan 15, 2019. This is the first time for me to buy my own car. After a discussion with my friends ( some of them are automobile engineers) they sugge...और देखें

Simply Best car in this segment. Performance and it has Very Good Mileage other things want to say.

I love to drive the car. Performance is super and smoothly, drive and Mileage also superb, mileage is between 22-25 kmpl. The engine is also fantastic, and light dip is s...और देखें

सभी प्लैटिनम इटियॉस रिव्यूज देखें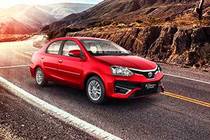 इस कार मॉडल की समय सीमा समाप्त हो गई है
यूजर्स द्वारा इन्हें भी देखा गया