फोर्ड फिगो Mileage यूजर रिव्यू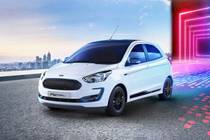 Rs.5.00 लाख - 8.37 लाख*
इस कार मॉडल की समय सीमा समाप्त हो गई है
फोर्ड फिगो के माइलेज यूज़र रिव्यू
सभी (330)
Mileage (107)
Performance (59)
Looks (50)
Comfort (89)
Engine (72)
Interior (26)
Power (78)
और...
I am quite happy with my car performance. I found no problem in its maintenance, mileage, look except that parts of car availability is given me problem much time even at the company service centre.और देखें

Nice car Figo good mileage and comfort 1400 diesel engine good AC low maintenance.

Overall good experience while driving Figo Titanium, diesel car. Safe and performance-oriented car. Mileage is also good if I drive 70-80 on the highway, it gives around 24-25 and for daily use 18-19 due to the very bad condition of the road. No any issue in the car. The service of Ford is good for the customer. The sound system is also g...और देखें

Figo is very good car. Mileage is very good. And very good pickup quality. Low maintenance. Music superb.

Awesome vehicle in this price segment and good build quality, good mileage getting 16 to18 in city and above on highways... overall performance is great i am very happy with my Ford figo.. it's really a fun to drive vehicle automatic ac works really. Fabulous performance...seat belt indicator,head lights indicating if the vehicle is stop and forgot...और देखें

After 3years of ownership,i feel ford figo still remained a great selection of mine.. Average mileage around 16kms per litre petrol. Average maintenance of RS3000 per 6 months. Car looks solid inside and outside with great driving comfor.t Car seems to be lagging until 2000rpms and then it cruise.s Only problem i faced was..my car wa...और देखें

Perfect family hatchback. Good mileage. Good road presence. Good safety features for the price tag.

The car is very comfortable also the mileage, safety is good. Also, the maintenance cost is low.

Best quality car with great mileage, and low service cost.

I have been driving Ford Figo diesel since Jan 2011. It's a very economical car with a 1400cc robust engine, efficient AC and very good suspension system. Even today it gives great mileage. A real value for money. I have been regularly going in for yearly scheduled maintenance and drive has been trouble-free year after year. It's a very dependable ...और देखें

I have Ford Figo 2012 model-driven 125000 km. It is my second car as I switched from Hyundai Santro and I am very much satisfied with the performance of this car. It still gives me a mileage of 20 kmpl. Space-wise it is good. It runs smoothly and has a very decent boot space as well. It is a low profile car so getting in and out for the elderly is ...और देखें

Don't know why Figo is so underrated.. Have owned new Figo from 2016 till now. Love its performance, mileage is good, security is more than other cars, service is cheap. Love it. Wanna buy more for my parents.और देखें

Ford Figo is very comfortable and smooth to drive. It looks amazing💕😍. Gear system is very easily movable. The mileage is also good. I got the araku valey in my car 🚗 so pickup also amazing. It is suitable for a small and sweet family. I enjoyed the ride with this car. My children's also enjoyed the ride with this car.और देखें

I am sharing my personal experience of Ford Figo, It is one of the best creation hatchbacks of Ford, it is such a good car for all. This car has very good road grip on roads. Sufficient legroom on the back seat and decent boot space. The pre-installed sound system is good. The engine is noisy when we compare petrol cars, passenger headrest is also ...और देखें

Figo is very good car in pickup and in safety The mileage is good

What a powerful beauty ford has. Small clutch n smooth n short power steering. Ease of driving with performance and value for money car with very good mileage. Take a test drive you will know how Figo diesel is far better than swift n i10 diesel.और देखें

Best car ever actually Ford cars in less price is a deal . If don't have a mileage issue you love to drive a car in city and highway also than Ford Figo titanium is the best pick ever. The build quality is best in Figo titanium.और देखें

Actually this car is more perfect from my point of view because I am using currently since 1 year from & the car is very beautiful, hight length, performance is great, mileage is good of petrol, the power is unbelievable, the thing is driving experience are short & long drive cool mindblowing more comfortable & most important is it for ...और देखें

The car has fantastic mileage and built. It is good for family purpose

I had driven Ford Figo 55000km till the date. The car is a gem of cars. It has great features like power, balance, comfort, fuel economy, low maintenance. I own the diesel titanium version which provides 2 airbags and makes you feel secure. I am getting a mileage of 20-22 km/lit on highways after having completed 2nd service. cons are a ...और देखें

Ford Figo is giving good mileage and very comfortable car. The engine and features are too good.

I have a Ford Figo for 8 years. I shortlisted this car because it was better than Swift and other hatchbacks in my opinion. Figo has a very heavy body and a very good build quality. It is giving me a mileage of near 12km per liter, I am not satisfied with the mileage. It has a good pickup and the ride is comfortable enough because it has broad tire...और देखें

My is 6year old but till now it gives very good mileage

Ford Figo is a nice car but needs to work on mileage. Otherwise, it is the best car in the segment.

I am writing this review after driving Figo S for 5800kms, Figo S has excellent driving experience with great power, great mileage, great braking system, great suspensions... Over all an awesome decision to buy Figo S over Swiftऔर देखें

I am writing this review after driving Figo S for 5800 KM, Figo S has excellent driving experience with great power, great mileage, great braking system, great suspension. Overall, an awesome decision to buy Ford Figo S over Maruti Swift.और देखें

My Figo Aspire is a brand car. It is tough, smooth. Its pick up is amazing Ac is fine. I purchased the car last year in November and found out that it's an amazing car, it has great space and comfort, mileage is also good, services by ford are also great, power windows make everything easy for the driver, also has cup holder on back seat, leg space...और देखें

I bought this car 2 months back and the driving experience, suspension, comfort and other facilities of the car are simply awesome. I am getting a mileage of 12.5Km/l only in the city driving which is a little concern but overall it is a good car.और देखें

My Figo Automatic petrol used for 8 months. I can say very very nice car..truly termed as Petrol rocket..only little dissatisfied with the single-digit mileage.













Not Sure, Which car to buy?
Let us help you find the dream car

क्या आप उलझन में हैं?
अपना प्रश्न पूछें और 48 घंटों के भीतर जवाब पाएं।
नई दिल्ली में *एक्स-शोरूम कीमत
×
We need your सिटी to customize your experience