Extremely Disappointed
Extremely Disappointed
Interior (Features, Space & Comfort) It is really shocking and hurting , when you take a new car and it starts making noise on the very second day of its purchase. I took Sail -1.2LT on 10th nov 2013 and on 12th nov 2013 i could feel that the dashboard is making nloise and from then onward the same noise has been continously increasing. Inspite of reading similar reviews from various customers in the past i took this car (only because of the promise given to me from the Representative - Praveen Jha- Safdaurgang enclave branch). The same noise , i could also see in the test car that they have - but based on various promises and assurances i decided to take the top model ,but it has beecome a pain now ,as these representatives want me to go and visit the workshop in the very first week. Never expected such bad after sale service , that no one is even coordianting this issue and getting my problem resolved. I would request all user ,not to prefer sail -all variants(1.,1.3 petrol diesel ,all)- As all the cars have similar disturbing dashboard noise - due to cheap plastic interior. Please refrain - all of you. After Sale services - No call was given for any feedback (its been one complete week). Final Words. Please avoid- strictly. Thanks Kaushik.
शेवरले सेल पर अपना कमेंट लिखें
1
L
laxmish
Feb 8, 2015 11:56:55 PM
Dear Friends, I am confused between swift dezire VXI and SAIL 1.2 LT ABS. I don see many SAIL on roads. Dezire being most stabilized in the market for its ride quality and milage, even i feel Dezire is better option (Considering resale value). But Swift cars are occupied in Bangalore and all over India and does not gives any unique feeling too. Please suggest me based on your experience on SAIL so far. Milage Riding quality After sales service Maintenance cost Thanks Laxmish
जवाब
1
s
saptarshi
Jan 15, 2014 3:30:07 PM
# Dashboard - Try to find out the source of the noise by yourself and ask the service center to fix it. # Windshield - Yes, it is a know issue in SAIL Twins. Generally, it comes from the right hand side pasting on frame, ask them to reset the Windshield properly. # Steering Wheel - I do not think it is from steering wheel, rather i might comes from the Wiper/Sidelight pastic stalks. Try to find it out and ask the service center to fix it. # Clutch - Yes, here also i faced some 'sneaky' sound. Either take the car to service center or any local service center, ask them to put some used engine oil in the Clutch pedal joint. # Horn- Most probably one of the dual horn got down, service center must change this under warranty. All the problems are nothing critical, would suggest you to take some time, find out the locations and ask the Service center to do the needful. Is there only one service center of Chevy? Else you can go to others.
जवाब
1
S
saswat
Nov 20, 2013 9:05:00 AM
Hello Kaushik, I'm also driving a 1.2 LT ABS. not as early as yours, but my car also started giving out those noises from the Dashboard, Windshield, Steering wheel, clutch and horn tuned mono. Believe me, I took my car to the service center (Orange Auto at Sanath Nagar, Hyderabad if you need to be aware). They said that the glass needs to be reset into it's position. This was a known issue in all the sail cars. My car is now fixed and believe me, now I'm a more proud owner of it. So, don't be disheartened and visit a good service centre. If they are unaware of the solution, tell them to contact the service centre I mentioned above. Don't lose your hope on your car. It's still a beautiful car. :)
जवाब
शेवरले सेल यूज़र रिव्यू
सभी (55)
Mileage (42)
Performance (11)
Looks (46)
Comfort (44)
Engine (19)
Interior (17)
Power (15)
More ...
It is a unique comfort luxurious family car, road-gripping is very good, well balanced on motion, air conditioning is very good and its a totally safe and secured car.

Loved my Chevy Sail in first look named it as Maverick. Wonderful, spacious, perfect family car. Looks like younger brother of Muscular Chevy Cruze. I myself designed and...और देखें

I am an infrastructure & earth moving, works contractor. my job demands lot of travel and mostly to stone quarries and work sites ,where you seldom find good roads. I hav...और देखें

Chevrolet sail is the best car though i have a diesel varient but power is massive. And there are no complaints with its look its just amazing I love this car very much a...और देखें

PREVIOUSLY I HAVE 3 TIMES MARUTI CARS, ONE TIME TATA CAR THEN I GO FOR GENERAL MOTORS CHEVROLET BRAND FOR SAIL. THE CAR DRIVING ON CITY AND OFFSIDE HIGHWAY IS VERY SMOOTH...और देखें

Stylist grill with attractive head light, comfort in riding, huge space in the cabin and ac is strong over all look and performance is very satisfactory and cheap compare...और देखें

I'm owing Sail LT model and Happy with Performace, Pickup & milage.The only thing that i am facing issue in Suspension / Ground clearance, Lower body touches Speed breake...और देखें

I have purchased sail sedan in december 2013. I am feeling happy about two months But after two months average is very week about 12-14 kms per liter. I am going to servi...और देखें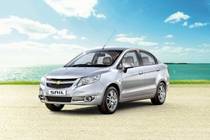 Rs. 5.76 लाख - 8.44 लाख*
इस कार मॉडल की समय सीमा समाप्त हो गई है
यूजर्स द्वारा इन्हें भी देखा गया