सुपर्ब car.. आई love sail..
Superb car.. I love sail..
Look and Style Its looks like mini cruze when we see long... at the back side it looks like an alto.. but overall it looks like mini innova.. I love the front part Comfort super roomy sapicous.. great legroom space... comfort to sit.. but plastic quality is good but not bad.. 5 people can travel long drive in very comfort way.. Pickup great pickup and chervy intro new engine.. hopes it beat all hatchback model.. both disel & petrol give awesome performance.. im using LS abs disel.. Mileage mileage is great.. in city it gives 15.6kmpl & 20.5kmpl in highway. Best Features suspension., all features.. spacious.. smoothness... Needs to improve no multifunction steering, automatic control, inside plastic quality.. power windows button should shift to driver door.. horn should be replace.. Overall Experience its worth to buy and chervy promise 3yr & 5yr engine warranty,.. I bought this car Deisel LS ABS.. Awesome feautres. no once can give at this price.. it has all features from base model. Suspension is super.. pick up good.. smoothness is superb.. can drive smoothly in city.. my car's mileage is 15kmpl in city and 20.5 lmpl on highway.. worth to buy... Guys if u hav idea to buy this car then go ahead..
शेवरले सेल हैचबैक पर अपना कमेंट लिखें
1
A
atul
Dec 26, 2012 8:30:21 PM
Hi All, Do u have any idea about Security alarm system company is providing as Standard feature in Diesel Top Variant SAIL U-VA LT ABS. I am not able to understand how it works and even the sales & service managers are unable to answer me. I am going escalate the issue to GM top management very soon, If anyone knows about that pls share his/her views.
जवाब
2
j
jeevan
Jan 7, 2013 1:00:08 PM
I'm sorry. Even I don't hav complete idea. I guess when you drive the car if door is opened. It giv u an alarm & if its not properly closed during ride, then it closes automatically & open when engine stops. Then it calculates is your speed & respond according to ur speed. But you can confirm with other dealers or you can mail GM
जवाब
1
N
nandakumar
Dec 21, 2012 9:34:44 PM
Well said Jeevan! It feels like mini Innova..Even one of my friend after seeing the car gave the same comment. The front looks like mini Cruze. I felt this when visited the Trident showroom which has both the cars showcased in front!
जवाब
2
J
jeevan
Dec 26, 2012 6:39:32 PM
Hi Nanda.. Yes its look alike mini INONVA. I love the front look.. gives super sporty look. at back side it gives family car look.. on the 3D side view its look lik mini ship.. its lengthy when compare with other hatchback car.. i did research & comparison fopr 45 days to buy car. finally i go with SAIL UVA.. bcaz it gives overall satisfaction & good safety feautres when compare others and value for money.. having 5 year engine & transmissin warranty & 3 year 150000km warranty.. Im happy with Chervy
जवाब
1
i
ilango
Dec 21, 2012 9:58:33 AM
hi, thanks for the review on Sail u-va LS -ABS diesel. I am planning to buy the same model. During test drive, I felt there is no sufficient space besides the clutch for foot rest. Also there seems to be vibration on the clutch. How is ur experience on these points? Did you get any offers from the dealer, & what is the on road price.
जवाब
2
J
jeevan
Dec 26, 2012 6:35:47 PM
on road it comes nearly 730000.. but u check with u r delaer for offer price. i get around 721000.. check corporate offer & accessorirs offer. Intialy it get little bit vibration. .but when you start to ride,, u wont hav much feel & its very comfort & giving smooth experience.
जवाब
3
i
ilango
Jan 7, 2013 12:46:44 PM
Thanks for your reply, jeevan. I booked it, and the car was supposed to be delivered on 5th. But disappointing.. those guys said there is some problem with the car which they diagnosed while driving to the RTO. They have now asked me to wait for 3 more weeks. by the way, which city are you in?
जवाब
4
J
jeevan
Jan 7, 2013 12:54:55 PM
So sad dude. Don't worry you will get it ASAP. I'm in chennai. How about you?
शेवरले सेल हैचबैक यूज़र रिव्यू
सभी (16)
Mileage (12)
Performance (6)
Looks (13)
Comfort (13)
Engine (10)
Interior (6)
Power (11)
More ...
This is my first review on this site. Hope it will be useful for you guys. I bought this car around May 2015. Let me describe my experience with the car. Exterior: Y...और देखें

I got my Chevy from Platinum Pune. I dislike Maruti at a greater extent, I do not know how long they will full the customers by selling off sourced engines to the custome...और देखें

After 5 years with TATA vista petrol edition we decided to change the car because of the maintenance cost had accumulated and desire of another car. We made options of wh...और देखें

Chevrolet Sail Uva 1.3 litre diesel engine equipped with Dual air bags, ABS (Anti-lock braking system), alloy wheels, 15inch tyre size, best in class mileage 22km/l in hi...और देखें

I have driven this car for 5000kms. It works good, riding and handling is pretty well, very spacious and comfortable for passengers as well for luggage, fuel economy is a...और देखें

Look and Style: Looks are good. Comfort: Satisfactory comfort level, but power window switch is in the centre which makes discomfort. Pickup: Good, but engine creates muc...और देखें

Look and Style Nice & Perfect. Comfort Satisfactory or say just good. Pickup OK not the best again. Mileage 15lt/km with AC Best Features Smooth Ride, side beams are ...और देखें

Look and Style Not a spoty look. But white color look greate. Bought base model and modified for 26k accessories. Comfort Comfort is the one of the best feature. Huge spa...और देखें

सभी सेल हैचबैक रिव्यूज देखें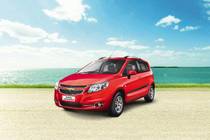 Rs.4.79 लाख - 7.46 लाख*
इस कार मॉडल की समय सीमा समाप्त हो गई है
×
We need your सिटी to customize your experience