Good package! with little things to worry :-(
Good package! with little things to worry :-(
This is my first review on this site. Hope it will be useful for you guys. I bought this car around May 2015. Let me describe my experience with the car. Exterior: Yes its not that much attractive with its smile fascia and appealing too but the aerodynamics for this segment is pretty good. The visibility of this head lights are pretty good at nights. Engine: I have took it for few long drives and it's pretty amazing to drive its cruising good in it's 100 kmph when it touches 120 kmph at it's max power it's riding quality and traction is really awesome. At my first 10000 kms pick up is not that much great for the petrol version comparing to other competitors in the market but after that the service personnel tuned it to perfection. You can get a 22 kmpl while you maintaining in 100 in highways and 15-17 kmpl in city according to traffic conditions(I drive around 50 kms daily in city). Interior: The interior is decent built and the audio system is quite good for default. This has the leather seats in the top variant and quality is good too. Air conditioning system is doing it's job fine in pretty hot conditions it's take us to switch to level 3 in fan speed to balance the heat. Back seats are really lovely for long drive no back aches till a 300 kms break. Boot! oh vow! what an lovely space we got here. It's really sufficient to pack a 4 baggage of travel case completely. Legroom is awesome for both the front and rear passengers. The placement of the power windows buttons was bit awkward at first because i am not used to that placement but once i started using it trust me it's really easy to use it without straining much like we have in the drive side door. PROS: 1) Good package for around 7lacs. 2) Great engine for those who are not performance car lovers but a commuter lovers. 3) Lovely aerodynamics. 4) Legroom 5) Back seat position 6) Boot space 7) Ride quality at high speeds 8) Braking 9) Low maintenance(for oil service it's getting charged for 3k to 5k max including other issues attended.) 10) Noise suppression is decent. CONS: Yes! not everyone is perfect. 1) Cabin light is not visible at the back. 2) Apollo tires believe me it's the worst night mare for long drives especially potty road conditions. 3) Ceiling metal is just really bad. It's just a thin layer of sheet. 4) If you are driving in little deep water during rain, the water will flow in through steering hole which is irritating. 5) The ground clearance, when u are travelling five and boot full, the speed brakers and the deep potholes making the body scratch. 6) Service centers, yes they are providing warranty just for sake for the first one year they are treating us like a gold member and from the second year there is a change in approach, if you need a faulty part have to be covered in warranty and get it replaced you have to literally lead a verbal war with these people. 7) Suspension could have been better. Verdict: Yes, it have few CONS but other than two major it's really a beautiful car to drive and hold to it for quite some time. I'll give a rating of 3 out of 5. Hope this is helpful! Good luck for you own car hunt.
शेवरले सेल हैचबैक पर अपना कमेंट लिखें
1
C
c d bhargava
Feb 24, 2017 6:21:14 PM
thanks for the feed back i own Beat LT Petrol and have the similar things on service back up by GM but the car is beautiful, I am purchasing SAIl UVA now.
जवाब
शेवरले सेल हैचबैक यूज़र रिव्यू
सभी (16)
Mileage (12)
Performance (6)
Looks (13)
Comfort (13)
Engine (10)
Interior (6)
Power (11)
More ...
After 5 years with TATA vista petrol edition we decided to change the car because of the maintenance cost had accumulated and desire of another car. We made options of wh...और देखें

Chevrolet Sail Uva 1.3 litre diesel engine equipped with Dual air bags, ABS (Anti-lock braking system), alloy wheels, 15inch tyre size, best in class mileage 22km/l in hi...और देखें

This is my first review on this site. Hope it will be useful for you guys. I bought this car around May 2015. Let me describe my experience with the car. Exterior: Y...और देखें

I got my Chevy from Platinum Pune. I dislike Maruti at a greater extent, I do not know how long they will full the customers by selling off sourced engines to the custome...और देखें

I have driven this car for 5000kms. It works good, riding and handling is pretty well, very spacious and comfortable for passengers as well for luggage, fuel economy is a...और देखें

Look and Style: Looks are good. Comfort: Satisfactory comfort level, but power window switch is in the centre which makes discomfort. Pickup: Good, but engine creates muc...और देखें

Look and Style Nice & Perfect. Comfort Satisfactory or say just good. Pickup OK not the best again. Mileage 15lt/km with AC Best Features Smooth Ride, side beams are ...और देखें

Look and Style Not a spoty look. But white color look greate. Bought base model and modified for 26k accessories. Comfort Comfort is the one of the best feature. Huge spa...और देखें

सभी सेल हैचबैक रिव्यूज देखें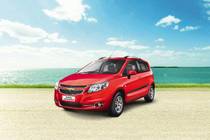 Rs.4.79 लाख - 7.46 लाख*
इस कार मॉडल की समय सीमा समाप्त हो गई है
यूजर्स द्वारा इन्हें भी देखा गया
×
We need your सिटी to customize your experience