Complete family car with Comfort and safety
Complete family car with Comfort and safety
I got my Chevy from Platinum Pune. I dislike Maruti at a greater extent, I do not know how long they will full the customers by selling off sourced engines to the customers. When I came to conclusion buying a car I had few technicals in mind, Length, Boot space, Extreme comfort, good built, reliability, Torque and Power of engine and off course the value for money. I started looking at Brands like Tata - ( they know nothing about monocoque chassis ), Hyundai - ( Pricing issue more than market rate for the same kind of engine configuration will Explain later! ), FoxWagan - ( German Albeit Servicing issue), Maruti ( Every sales man has Ego of high sales so they least worry about your reputation), Honda ( They are still do not know what is next after Honda City , Amaze and other product Time waste),Ford ( Need serious face lift to there all model) So there are two option Left Fiat and Chevrolet. These are manufacturer providing honest and Value for your hard earned money. I came across Chevrolet Sail. Now I would like to share explanation what I said about some other brands. - Sales team was very amicable & good to understand my need.They could have sold out Sail Sedan Car but suggested me to go for Hatchback. as we have three members in family. - After sales Service is Excellent and Shoroom Guys are quite resourceful and approachable. This car has total length of 3950 mm which pretty good & 100 mm greater than Swift. It'e has True hatchback design concept which add to comfort. Engine power is Pretty Good of 84 PS . Torque is 110 NM which good at it's side because Many people might not aware that Less PS Engine power and high engine Torque means there is risk directly ( Maruti Swift has 114 mm) to your engine crank shaft and it is really important to have balance torque. Suspension is very nicely tuned and there is no Clutter and Cling heard inside the Cabin which very Calm,while on highway. I have driven this car so far more than 6000 km, Ensuring it crossing all terrains ,bad patches or weathers but this hatch lived to it's name, it is reliable engine is very well tuned there is almost no noise, even at three digit speed, Honda Amaze has limit of 140 km Max. When you push the Throttle you do not feel lazy response like Hyundai Grand i10 or Brio or Amaze ( they are Amazingly lazy ) and their engine literally ask for Mercy to slow down at three digit speed. Inside of cabin it specious specially which not the case normally for other identical cars. When you actually sit behind the wheel of Swift Dezire or Swift or Grand i10 forget about space it is very complected and it is feel of cramp.But for Sail it is roomier than any other hatch in premier hatch engagement. Engine is very Frugal it delivers average of around 16 km/l on the highways. Boot is quite decent which is almost less that 300 L. but after folding seats of second row that increases to around 500 L. ( Quite interesting !) It is greater than any other identical product. Overall Bottom line is Chevrolet is truly value for money, and next car will Chevrolet Cruz ! Thanks !
शेवरले सेल हैचबैक पर अपना कमेंट लिखें
1
l
leo
Dec 27, 2021 5:40:27 PM
I bought this sail uval diesel LS modle on Dec12. Till now going good.After crossing 9+ years now the car is as like brand new car driving feel. im a 6.2 inch tall guy so interior space is important.
जवाब
1
S
santhosh
Mar 19, 2018 5:57:07 PM
good car.
जवाब
शेवरले सेल हैचबैक यूज़र रिव्यू
सभी (16)
Mileage (12)
Performance (6)
Looks (13)
Comfort (13)
Engine (10)
Interior (6)
Power (11)
More ...
This is my first review on this site. Hope it will be useful for you guys. I bought this car around May 2015. Let me describe my experience with the car. Exterior: Y...और देखें

I got my Chevy from Platinum Pune. I dislike Maruti at a greater extent, I do not know how long they will full the customers by selling off sourced engines to the custome...और देखें

After 5 years with TATA vista petrol edition we decided to change the car because of the maintenance cost had accumulated and desire of another car. We made options of wh...और देखें

Chevrolet Sail Uva 1.3 litre diesel engine equipped with Dual air bags, ABS (Anti-lock braking system), alloy wheels, 15inch tyre size, best in class mileage 22km/l in hi...और देखें

I have driven this car for 5000kms. It works good, riding and handling is pretty well, very spacious and comfortable for passengers as well for luggage, fuel economy is a...और देखें

Look and Style: Looks are good. Comfort: Satisfactory comfort level, but power window switch is in the centre which makes discomfort. Pickup: Good, but engine creates muc...और देखें

Look and Style Nice & Perfect. Comfort Satisfactory or say just good. Pickup OK not the best again. Mileage 15lt/km with AC Best Features Smooth Ride, side beams are ...और देखें

Look and Style Not a spoty look. But white color look greate. Bought base model and modified for 26k accessories. Comfort Comfort is the one of the best feature. Huge spa...और देखें

सभी सेल हैचबैक रिव्यूज देखें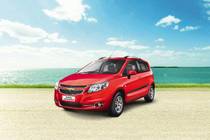 Rs.4.79 लाख - 7.46 लाख*
इस कार मॉडल की समय सीमा समाप्त हो गई है