शेवरले सेल uva रिव्यू
Chevrolet sail uva review
Look and Style: Looks is ok but not belongs to 2013 Comfort Spacious car but missing some essential features, top model does not have steering mounted control, firm seats, oddly located power window switches, window glass noise when half rolled down, dashboard noise Pickup Pickup is very good with towing by another car Mileage 10 KMPL in city and 13 KMPL on highway, too low as compare to claimed by Chevrolet Best Features Nothing Needs to improve. Just stop making cars , put chilly powder in customer eye and take his money and kick him. Overall Experience I have purchased Chevrolet Sail uva LS abs diesel on 31st march 2013 and this is the worst decision of my life. after two months of purchase 2100 KM on board my car's engine got stuck. I took my car to the nearest service center, after inspection the Service engineer said that there is an engine problem and whole engine replace under warranty. He said that crank shaft pulley bolt has been broken. And now after 2400 km with new engine, problem starts again. My car refuse to start and now Chevrolet engineer said that my car's engine will be changed once again. Why I spend 7 lacs on a diesel car. I am crying with sail uva because I purchased sail uva by taking HDFC car loan. Why I purchase this car. I am asking this question with me every minute every hour. Chevrolet stole my money. I want my money back.Total three & half months of purchase after only 4500 km run, engine changed twice and not only me there are many other customers who facing this kind of problem with Chevrolet sail diesel or sail uva diesel and also Chevrolet stop production of sail and sail uva diesel models since june 2013 because of quality issues and they are not able to find the root cause now. ac switch light useless, power window switch in centre , remote key buttons u must press them many times to open car, all doors dashbord too noisy. Poor mileage only 10 KMPL. Why Chevrolet launch this kind of product without doing much R & D. Chevrolet cheating with the poor customers. GM is a fraud company. "Chevrolet" One more failure of GM after opel. If you want to spend your hard earn money in any American company so please pay to Microsoft foundation not to General Motors NEVER BUY CHEVROLET.
शेवरले सेल हैचबैक पर अपना कमेंट लिखें
1
V
vishwajeet
Jan 4, 2015 10:16:06 AM
Did 15,000 km on Sail LS Diesel. Excellent experience so far. Drove across India - Manipal Karnataka to Ahmadabad in one go. Simply impressed with engine performance on highways (although not so good on hilly terrain, due to low response in 2nd gear). However when things are flat (like expressways), swift and even Honda amaze shy away (I have never flat footed my accelerator). Mileage varies between 20-18 km/l depending on drive condition/speed. Beyond 120 km/h speed Mileage goes down to 16-17. No competing car matches on space and ride quality.
जवाब
1
h
hameer
Sep 30, 2014 3:44:54 PM
i want to purchase sail #back petrol reading review i am confused plz help go for sail or swift or i20
जवाब
1
D
dr.s.gopalakrishnan
Aug 25, 2014 11:55:53 AM
I have purchased SAIL UVA LT ABS model and driven almost 29,000/- in 18 months. So far I have not faced any problems. It is giving 20.5 kms/liter averagely with AC. I am a very satisfied person.
जवाब
शेवरले सेल हैचबैक यूज़र रिव्यू
सभी (16)
Mileage (12)
Performance (6)
Looks (13)
Comfort (13)
Engine (10)
Interior (6)
Power (11)
More ...
This is my first review on this site. Hope it will be useful for you guys. I bought this car around May 2015. Let me describe my experience with the car. Exterior: Y...और देखें

I got my Chevy from Platinum Pune. I dislike Maruti at a greater extent, I do not know how long they will full the customers by selling off sourced engines to the custome...और देखें

After 5 years with TATA vista petrol edition we decided to change the car because of the maintenance cost had accumulated and desire of another car. We made options of wh...और देखें

Chevrolet Sail Uva 1.3 litre diesel engine equipped with Dual air bags, ABS (Anti-lock braking system), alloy wheels, 15inch tyre size, best in class mileage 22km/l in hi...और देखें

I have driven this car for 5000kms. It works good, riding and handling is pretty well, very spacious and comfortable for passengers as well for luggage, fuel economy is a...और देखें

Look and Style: Looks are good. Comfort: Satisfactory comfort level, but power window switch is in the centre which makes discomfort. Pickup: Good, but engine creates muc...और देखें

Look and Style Nice & Perfect. Comfort Satisfactory or say just good. Pickup OK not the best again. Mileage 15lt/km with AC Best Features Smooth Ride, side beams are ...और देखें

Look and Style Not a spoty look. But white color look greate. Bought base model and modified for 26k accessories. Comfort Comfort is the one of the best feature. Huge spa...और देखें

सभी सेल हैचबैक रिव्यूज देखें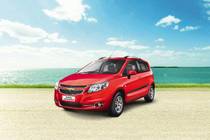 Rs.4.79 लाख - 7.46 लाख*
इस कार मॉडल की समय सीमा समाप्त हो गई है
यूजर्स द्वारा इन्हें भी देखा गया