फोर्स One: ए Sports Utility Vehicle with हाई Performing इंजन
Force One: A Sports Utility Vehicle with High Performing Engine
The most trusted utility vehicle maker has recently launched a sports utility vehicle with high performing engine. I have been waiting for this SUV since long time, because of its powerful engine quality. At last, able to manage a test drive of this utility vehicle. The interiors of the SUV is awesome and I feel that after sitting inside the cabin. The vehicle is blessed with a powerful 2.6-litre turbo charged inter cooled diesel engine with the displacement of 2596cc. It is able to produce 82bhp of power and 230Nm of peak torque. The is mated to a five speed manual transmission gear box, which enhance the fuel efficiency and also give a smooth driving experiences. The fuel efficiency of the this sports utility vehicle is 14 kmpl in the city road and 17 kmpl on the highway. The company has given this compact sports utility vehicle with a lot of safety and comfort features. However, at the same time, it is also gifted with an advanced entertainment unit.The company has blessed this car with a lot of advanced safety features such as a highly advanced ABS (anti lock braking system), along with EBD (electronic brake force distribution), driver seat belt with warning indicator, key less entry and a door open warning notification.In addition, the car has an advanced stereo unit with ten speakers, blue tooth, radio with AM and FM, CD/DVD player and many other aspects, which is soothing and played good music. This is a perfect vehicle for a family and the vehicle has a seating capacity of seven people. Apart from these, we can say that after driving such an excellent car with an advanced and luxury features, I feel like a dream come true.
फोर्स वन पर अपना कमेंट लिखें
1
s
sujit g
Feb 28, 2014 12:21:47 AM
Rahul, I'm also looking at buying this Force One SUV and which model you have bought & hows it going overall. Really hard to believe so many problems it can have. please revert with your views. taking test ride this week. regards sujit
जवाब
1
R
rahul
Nov 27, 2013 9:29:55 PM
Common ... This is really not right I was just reading stuff from various reviews and commented on that .. would like to share my experience as well... my no is +91 7781016222... I just bought Force One sx around 2 months back during Navratra and have clocked it to 3200 km till date and have not face any problems, bought it from Patna and probably would have never bought the vehicle if I would have read this article, but I am really happy that I bought this vehicle, I have been traveling a lot lately and had a great riding experience. Breaking is awesome with the new ABS system, it was told by the sales people that there were some problems in the vehicle initially with the 1st model but had the courage to buy the vehicle as Force one has good numbers on road in Patna. They assured me abt the problems getting rectified and really I am happy they were true. I love the vehicle today, no comments on what was in past... More than that it got rectified pretty fast as Mahindra took it around 13 year in scorpio and still they are on learning curve.. (I also have a Mahindra VX 4wd Automatic)
जवाब
2
p
pinaki
Feb 2, 2014 10:24:09 PM
Rahul, I'm also looking at buying this Force One SUV and came to this forum and read some real horror stories about the vehicle. How is your model performing? I took a test drive recently and the drive quality looked pretty decent. The interiors, as meniioned everywhere, looks dated.. Your revert will be really helpful in taking a decision about the purchase.. regards Pinaki
जवाब
1
s
sandeep
Aug 25, 2013 1:02:04 PM
Thank you guys, appreciate your comments since I was already on my way to buy but have decided not to go for it. Hopefully the company recognizes it and does some work on it soon.
जवाब
फोर्स वन यूज़र रिव्यू
सभी (40)
Mileage (26)
Performance (5)
Looks (34)
Comfort (33)
Engine (18)
Interior (14)
Power (9)
More ...
Force One SUV was launched 7 years back with the notion to give a new and unique offering in the space. The maker of Traveller and Trax utility vehicle took a whole new a...और देखें

Force is well know renewed brand in india with it's most successful model in olden days are the matador and still popular model like tempo traveller the brand it self is ...और देखें

Look and Style - Very impressive. Looks pretty much like Fortuner and XUV 500. Comfort - Very comfortable seats, good enough for long journeys. It is equipped with the fe...और देखें

It looks very nice and attractive, looks like a Fortuner. It is really very comfortable, offers suitable seating comfort and sweet music system with decent sound quality....और देखें

It looks very nice and attractive, looks like Fortuner. It is really very comfortable for suitable seating and sweet music system with decend sound quality. Many thanks t...और देखें

Don't ever buy this car...I have never seen any car lie this...407 or lorry is better than this...No break in this car...the time of sales they will say this is the besto...और देखें

The most trusted utility vehicle maker has recently launched a sports utility vehicle with high performing engine. I have been waiting for this SUV since long time, becau...और देखें

Exterior Exterior is decent looking and that?s a personal choice. Interior (Features, Space & Comfort) Only good part is space as it beats everything else here, but r...और देखें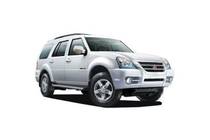 Rs.9.59 लाख - 16.33 लाख*
इस कार मॉडल की समय सीमा समाप्त हो गई है
×
We need your सिटी to customize your experience