Good looks but not so good on pocket with 12.5 kmpl milage
Good looks but not so good on pocket with 12.5 kmpl milage
When a car is manufactured to attract new generation, mid level customers it becomes truly very important to give emphasis on a decent mileage of the car. All cars now a days are not luxury, a car is not always meant for communicating purpose, for some, a car sometimes it is a freedom, one is free when s/he drives for a long distance to explore new roads new lands or beauty of nature....and then if suddenly comes the hurdle in the form of empty fuel tank that truly makes an impact on mind, the zeal vanishes, tension creeps on mind and if the person is in the middle of an unknown place far from the destination where there is not a single shop available to make a single phone call, s/he feels the mistake of buying an SUV. SUV lovers buy these vehicles for their looks, dimension, power and most importantly the off road capability. They are preferred not by all types of customers, there is a certain segment of customers for these vehicles. Those who love SUVs they only love SUVs. Considering the preference for these vehicles producer must also take into account the mileage, after all it is not a city car nor even a racing car that one can pour oil as and when needed in the middle of the city. Where other SUVs at this price range is giving far better mileage, how the car will fair in Indian market where money matters a lot. This car has a very impressive look, 5 seater, off road capability, a decent but though not a great interior, which is enough for an SUV at this price range. This is not a high price- range car which means, this car is not produced for the premium customers for whom recurring cost is not on the top of the list and yes it true that it is not from a popular passenger car manufacturing company, for a company having only one passenger car in their catalogue how they can penetrate into this market giving a poor mileage and can get attention from customer. To win hearts of million of car lovers and in this current competitive market it is important to look into every aspects of a car from looks to comfort and yes it seems it flairs in every aspect. This car is a Rio from different aspects but Rhino on pocket!
प्रीमियर रियो पर अपना कमेंट लिखें
प्रीमियर रियो यूज़र रिव्यू
सभी (33)
Mileage (25)
Performance (6)
Looks (26)
Comfort (27)
Engine (12)
Interior (13)
Power (10)
More ...
This review would be behalf of my friend and my experience with the car. My friend bought this car about 4 years ago and when I saw this car for the first time I felt it ...और देखें

It makes me feel unique when I'm driving Rio. It's not a common car on roads. Seats are made for long traveling.

I own a Rio LX with ABS model. Purchased it on Jan 2012, biggest mistake ever done. Mileage never exceeds 12kmpl under whatever circumstances you drive the vehicle. The...और देखें

Look and Style: Looks are pretty trendy and give a feel of an SUV. As it is compact it looks much stylish and not blown up out of proportion like other SUVs. Comfo...और देखें

Premier Rio is a good car for the lowest budget, we will appreciate to all viewer take it.

When a car is manufactured to attract new generation, mid level customers it becomes truly very important to give emphasis on a decent mileage of the car. All cars now a ...और देखें

Rio is little yet comfortable SUV. My Dad purchased this small SUV 2 years back. Its engine performance is excellent. Our Premier Rio gives 20 km/l of mileage. Its featur...और देखें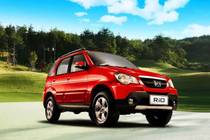 Rs. 5.00 लाख - 7.24 लाख*
इस कार मॉडल की समय सीमा समाप्त हो गई है
यूजर्स द्वारा इन्हें भी देखा गया
×
We need your सिटी to customize your experience