महिंद्रा Verito... to गो with it or not?
Mahindra Verito... to go with it or not?
Honest confession… I wasn't going to test drive this car but because of the price range I thought about it. Though after the test drive I am 100% convinced about it. My experience with the car was as follows: Look and Style Mahindra Verito isn't one of the most stylish vehicles in town when you look at it. The car looks a little better than the Logan. Though from the rear side, it still has the same old box shape. The interior space although is commendable. The good part is, as soon as you look at the car, you can make out that it is very well built and is very sturdy. The upholstery was also good, in fact gave the car a very pleasant feel. Comfort As far as the interiors are concerned, as mentioned already, the car is very spacious with immense headroom and legroom. It is a good car to seat 5 comfortably. The rear seats are as spacious as the front, which is the best feature of this sedan. The boot space along with the seating is also very very decent. The car has all the basic comfort features like the power steering, powerful AC, power windows etc. make the drive very comfortable and pleasant. The problem though was that the indicators are still on the left hand, but guess once you drive this car on a regular basis, this is something that can be dealt with. Pickup The handling of the car was surprisingly good with the quick pickup and easy acceleration. The seating position could be manually adjusted to and fro as well as the height. This is surely a feature that adds to the comfortable handling. Mileage The company and reviews claim a mileage of 15-17 for the diesel model. After the test drive it seemed believable because of the comfort of the drive, easy gear shifts and ease of handling. Best Features Without the doubt the best feature of the car was the space. Moreover, I would give the handling and smoothness of gear shifts a 6/10. (Don't know how true it is, but I have heard that this gear shift smoothness doesn't last for long.) Needs to improve For me, along with the looks, Mahindra might want to work on probably the brand image of the sedan or its positioning, whatever you want to call it. (Though the Verito man definition- strong, sturdy, rugged, well built… that's actually true… ) Overall Experience Overall the test drive was decent. I might actually consider buying the car after a little research on the internet and probably a conversation with my mechanic. There isn't anything wrong with the car or it isn't that the car is lacking but somehow the feel of the car isn't something that made me go "WOW" but then again, maybe I am a difficult shopper.
महिंद्रा वेरिटो पर अपना कमेंट लिखें
1
S
s ravi
Mar 24, 2021 10:28:32 PM
I'm using mahindra verito d4 but 3 days ago to piku compltly down seeing why any solution tell me plz give me reply
जवाब
1
S
shaliender kumar
May 9, 2014 4:12:34 PM
I'd not recommend this car for any new buyer,for the simple reason of high service costs. I have already spent Approx. INR 20,000 on services despite the car is still under 2 year standard warranty. In 2nd year of warranty period and brakes changed, AC filter changed twice. In addition the dealers are pathetic when it comes to spares for Verito. They say spares are not available generally for verito. Hence better to go for Maruti or any other Brand which has its 100% own model and not like Mahindra Verito which is a neglected child between Mahindra nd Renault.
जवाब
1
H
haresh ankola
Apr 7, 2014 7:49:46 PM
I am using Logan Diesel BS-4 model since last 3 years. So far I have driven 75000 km. Before buying it here are few facts for maintenance. Every 10000 km Diesel filter ( Rs.1500), air filter (Rs.800) is to be changed. Service charge Rs1500/--. Few Months back on highway oil and coolant got mixed and oil started comming out from coolent bottle. On repair a replaced the following items, Oil cooler ( Rs.8000 generally out of stock), radiator (Rs.7000), coolent, coolent bottle CAP (Rs.1000) apart from labour charges. After changing the above items I have driven around 8500 kms. Today the same problem have occured twice. All the items will have to be changed again. I hardly drive 75kms daily and the car is in service center. The service adviser informed me that this is a common problem for BS-4 Verito. The part which failed is Oil cooler and smartly it comes with 3000km warrenty.
जवाब
महिंद्रा वेरिटो यूज़र रिव्यू
सभी (59)
Mileage (42)
Performance (13)
Looks (44)
Comfort (46)
Engine (19)
Interior (13)
Power (16)
More ...
Mahindra Verito looks awesome, from both interior and exterior. its electric variant is low power as compared with other variants. But it is very cheaper as compared with...और देखें

The best finest engine has used in this car, engine immobilizer technology keeps the vehicle safe, and best performance on long rides and cities. This car having good pic...और देखें

We all Mahindra is not into Sedans(in a way) but somehow the put Verito in the league for the people like me who want Mahindra but not SUV, and Verito proves this. I know...और देखें

Mahindra Verito D4 model is very good. I am using this car for the last 6 years and the results are excellent.

Mahindra Verito is a very good and low maintenance car. I'm using it for the last five years.

Best car for bigger legroom and boot space which offer a great fuel economy of 20kmpl. Noise in engine after few years of use.

This is a worst car the spare are expensive, end of the day the becomes scrap. Not recommended.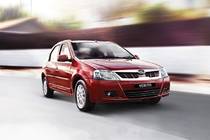 Rs. 5.27 लाख - 8.87 लाख*
इस कार मॉडल की समय सीमा समाप्त हो गई है
यूजर्स द्वारा इन्हें भी देखा गया