AWESOME VALUE FOR MONEY WITH GREAT LEGACY & MASTER CLASS...
AWESOME VALUE FOR MONEY WITH GREAT LEGACY & MASTER CLASS...
Its amazing sports car with ford's historical legacy. in less money it provide awesome features. its power performance is much better with compare in this price cars. a luxury interior with better space.The Shelby GT350 is engineered for adrenaline-pumping performance. Its 5.2L V8 with flat-plane crank kicks out 526 hp and 429 lb.-ft. of torque and is one of four Mustang engine choices - all designed to overwhelm the senses with pulse-raising torque and a legendary roar. So buckle in and put your hands on the wheel of a Mustang and you'll feel one thing above everything else pure exhilaration. Four engines. One soul.Have fun deciding: the 3.7L V6 offers up 300 hp and 280 lb.-ft. of torque, standard on V6 models, while the 2.3L EcoBoost churns out 310 hp* and 320 lb.-ft. of torque,* standard on EcoBoost models. The 5.0L V8 kicks out 435 hp* and 400 lb.-ft. of torque,* standard on GT models. Last but certainly not least, the 5.2L V8 delivers 526 hp and 429 lb.-ft. of torque, standard on the Shelby GT350 and Shelby GT350R. Skip the straight and narrow. Ford Mustang features an integral link independent rear suspension that helps minimize body roll and isolate road imperfections for a responsive ride and precise handling. Aluminum-alloy rear knuckles and H-arms help reduce unsprung mass. So Mustang has twice as much anti-squat and nearly 10 times the amount of anti-lift for better pitch control during hard acceleration and braking compared to the previous generation.Modeled after the classic Mustang fastback - with its sleek, sporty aerodynamic look - every 2017 Mustang has standard HID headlamps and signature LED tri-bar taillamps with sequential turn signals. Dual exhaust pipes are standard on all models and air extractor hood vents are standard on GT models. And to match your own unique style, Mustang comes with a long list of options for all models, including 12 available wheel designs ranging from 17 inches to 20 inches. The driver's seat set in a low, sporty position offers abundant travel for comfortable positioning. The steering column manually telescopes and tilts, helping provide a controlled feel. The shifter leaves ample clearance for the controls, while the cupholders are positioned outside of the shift path. You'll enjoy ample knee room, as well as a left-side footrest (dead pedal) set to the same angle as the accelerator. The 2017 Mustang has an impressive array of standard and available advanced technology features to enhance your driving experience. Take the almost effortless start, for instance. Or the rush of a sound system that meets any audiophile's demanding standards. And then, of course, there are the Selectable Drive Modes ' the ability to customize the feel of the car to your particular liking. WE CAN SAY ITS UNMISTAKELY MUSTAG....I LOVE IT
फोर्ड मस्टैंग पर अपना कमेंट लिखें
1
A
anil
May 28, 2018 6:10:44 PM
Wow for such an exhaustive review with details of all models. But how were you able to explain about models who do not even exist in India? India gets only one model. Looks copy pasted from somewhere, the language of the review doesn't look like done by a driver but by a desk hand.
जवाब
फोर्ड मस्टैंग यूज़र रिव्यू
सभी (68)
Mileage (5)
Performance (16)
Looks (23)
Comfort (15)
Engine (26)
Interior (10)
Power (22)
More ...
Great muscle car lots of features great in look great speed great sound great interior getting a seating capacity up to 4 no other cars offer it in a sports car and great...और देखें

This car is very fantastic. It is to comfort and it looks good. It is too luxurious and its maintenance is not too costly. Its headlights are good. In this car ...और देखें

This is an amazing car and a dream car as well. My first choice in the world is an amazing car which I bought.

Ford Mustang is my life, hence everything is alright & so my life has no problem in any feature, the mustang is full of joy and comfort, and most important this super...और देखें

This will be a great car. I really like this Mustang. It looks are crazy and all the car features are great.

Actually! This car has so much power in it and has so much sporty look and style and with a lot of features inside it. This car catches 100km/hr in just 5 seconds which s...और देखें

Ford Mustang is the best car in India all people have loved this car I wish to buy the most wonderful Ford Mustang car.

सभी मस्टैंग रिव्यूज देखें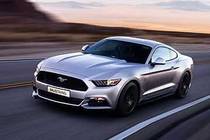 Rs. 74.62 लाख*
इस कार मॉडल की समय सीमा समाप्त हो गई है
यूजर्स द्वारा इन्हें भी देखा गया