फिएट लिनिया EMOTION डीज़ल 2012
FIAT LINEA EMOTION DIESEL 2012
Helooo..! I wanted to buy one diesel sedan 2012 model. Survey was extensive with test driving Ford Fiesta, SX-4, Verna, Skoda Rapid, W Vento and.... I had driven Linea 2011 Petrol version and with the pickup being sluggish .. I was not at all interested in seeing Fiat linea. Then came 2012 and the new model of Linea Emotion 2012. The dealer just asked me to take one test drive .. which very reluctantly I agreed and within no time made up mind for my next vehicle ... FIAT LINEA EMOTION 2012. I had already driven more than 2000 kms in last one month and the review is based on that. Pluses - Admiration Guaranteed - Mileage on highways is 18 when maintaining around 100 KMPH. - City mileage in place like Delhi works out to about 16 - 17 KM/L , once again depending upon the traffic. - Feature rich and has got all the required controls on steering minus cruise control which actually is not required in Indian conditions. SX-4 is also good but does not have features. Even new Dezire has more features. - The diesel vehicle driving is based on RPM and anything more than 1800 RPM the vehicle will not let u down. More than 80 KMPH the pickup virtually improves ... tested till 130 KMPH. The variable geometry Turbo enures that the acceleration is smooth and will be difficult to make out that u are driving a diesel vehicle. In Rapid the jump is noticeable when u cross 1800 RPM. - ABS is effective and is very useful at high speeds. - Flat torque ensures that less frequent gear change as vehicle can pickup from 20 KMPH when in 5th gear. However, the pickup is slow when using this... RPM based which is low at this stage. - Good boot space of 500 Ltrs. - The top end model interiors are fab with leather seat covers. - Colour - Tuscan wine is good but like any dark colour needs extra maintenance as dust easily shows. Get ur car Teflon Coated which will help to retain shine and gather less dust/scratches. - Ground clearance is superb and clears almost all speed breakers. - Auto head light function comes handy when entering mall parkings or UG parkings. - Climate control is effective and very responsive. - The servicing is around 4000 - 4500 annually/ 15000 Km whichever is earlier. For Skoda vehicles it is around 10000 plus. Minuses - Pickup is slightly sluggish when u want to race with some one or pickup fast. In case this is ur criteria then go for engine with 1.6 l and above. Chevrolet vehicles are good with 2.0 L engines. - Limited or virtually no space inside the car for carrying stuff i.e pockets and space is minimal with no space for water bottle also. U need to carry a bag inside to carrying any stuff. - After sale service as TATA is supposed to provide this. They, obviously, give preference to their own products. Here, PR will come handy. - No parking sensors. This u should get fitted or alternately get camera fitted fitted. This I got it done costed around 5000 and is effective. Hope this will be useful. Any further queries pl do ask. All the best.
फिएट लिनिया पर अपना कमेंट लिखें
1
S
sri
Jan 7, 2014 6:15:00 PM
Hi!! I got my Linea T-Jet Emotion-2013 today immediately after the test drive, and after comparing with all Sedans in this variant. I need to start for a long drive to have my comments on this car.
जवाब
1
V
vish
Oct 30, 2013 6:52:10 PM
Hi! all the major car manufactures generally keep the routine spares with them. Any special spare is demanded from the factory. It, though takes some time, but is economcal for the manufaturer. Fiat after sale service is fairly good in Delhi and the spares are made available within 7-10 days.
जवाब
1
D
dhivya
Oct 28, 2013 12:45:25 PM
Hi, i want to know the spare parts availability in bangalore, i have seen other reviews as ppls were telling the there are no spare parts available in the service centers and the service is also too bad. I badly need to buy this cars as its looking pretty compared to the other sedan models. But reviews i have seen about this car is not that good when we consider the service and the spare parts availability and the costs.
जवाब
फिएट लिनिया यूज़र रिव्यू
सभी (92)
Mileage (46)
Performance (19)
Looks (52)
Comfort (50)
Engine (37)
Interior (28)
Power (23)
More ...
I was given with this beauty by my father when I was in the final year of my College, Back in 2010, I found its styling and it's electrical equipment, like the ...और देखें

Linea is not a car it's virtually a tank on road it is so impressive as a sedan. The mileage is very good and it gives positive vibes it looks cool when we park it also h...और देखें

I have a 10-year-old 2009 Emotion Pk Petrol. A brilliant car that never lets me down. She has a luxurious and quiet cabin. I drove a BMW while in the US and the comfort o...और देखें

My Linea is excellent and doing a great job even after 7 years. I still get 20+ mileage and the engine is superb after using 1.3 lakh km It has great safety features and ...और देखें

I bought the Fiat Linea in 2012 and the performance to date is very good. No rattling sound at 100 Km speed. No vibrations due to excess speed on highways. The engine is ...और देखें

I got lenia multijet 1.3 emotion diesel and it's very nice on average. And it is very comfort too. Big space and No.1 in pick up.

It is nice, strong, beautiful and rouble free car. It is very good for family travel. Good model and designe of the car.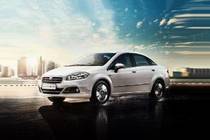 Rs. 7.22 लाख - 10.76 लाख*
इस कार मॉडल की समय सीमा समाप्त हो गई है
यूजर्स द्वारा इन्हें भी देखा गया