मारूति बलेनो Price यूजर रिव्यू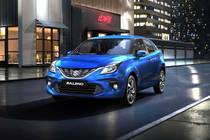 Rs. 5.63 - 8.96 लाख *
*एक्स-शोरूम प्राइस
नई दिल्ली
मारूति बलेनो के कीमत यूज़र रिव्यू
All (2761)
Mileage (729)
Performance (358)
Looks (864)
Comfort (824)
Engine (343)
Interior (418)
Power (267)
Price (364)
More...
LATEST
HELPFUL
VERIFIED
CRITICAL
It's been 1 year since I have got the Maruti Baleno. It's the best vehicle in this segment. The on-road price of Maruti Suzuki Baleno Zeta 2018 model was Rs 7.7lakh in Kerala. It has a powerful 1.2 L engine. The variant I own is Baleno Zeta Petrol. All the features of the Baleno are mind-blowing as its unbelievable. I'm actually satisfied with it. ...और देखें

Maruti Baleno is well said as the best small segment car with scores of features that match the line of all high-end cars. The feature available at this price is amazing. The ride quality of my automatic Baleno is awsome. The front seat comfort for co-passenger is perfect. The cabin is airy and wide which gives the car a premium look. और देखें

It's not worth the price. Poor plastic quality, brakes, bad suspension, larger turning radius. The good thing is its pick-up in that segment other than there is nothing great about it. The mileage as published is also false, within the city it's around 10 and on the highway around 15 in petrol. In regards to service, it's not like that cheap as por...और देखें

It's been 1 year since I have got my Blue Beast Baleno. Its a good budget and best car in this segment. The on-road price of Maruti Suzuki Baleno Zeta 2018 model was Rs 7,73,000 when I have bought it. It's totally worth buying due to its powerful 1.2L engine. The variant I own is Baleno Zeta Petrol, all the features of the Baleno are mind-blowing a...और देखें

Baleno is best in class it is exactly 1 lakh cheaper than Hyundai i20 and other rivals. In the delta model, you will get automatic climate control and alloy wheels which is a nice touch under this price option. The only downside is the plastic quality used on the dashboard very brittle rest the car is good for Indian road. I suggest petrol is a goo...और देखें

Best hatchback at a reasonable price, it's stylish, comfortable and gives the feel of a luxury car. I highly recommend this one for every hatchback lover.

Maruti Baleno is the best hatchback at a reasonable price. It's stylish, comfortable and gives the feel of a luxury car. I highly recommend this one for every hatchback lover. और देखें

The fantastic car I bought Baleno Zeta in March 2019. It is fun to drive a car with fantastic mileage and lots of features at an affordable price.

Very alluring normal class family and very comfortable price, great looks and smooth drive experience. 

It is a nice car good looking and the best milage for the best price, and the best millage and good leg space.

Maruti Baleno is a very tough and sporty car. It is value for money. If you have confusion between the Hyundai i20 and Baleno, you should buy Maruti Baleno. It is very premium car available at reasonable prices in India. It is loaded with so many unique features like 60:40split seat(half folding of seat),very big boot space and also very much uniqu...और देखें

Good mileage, good Looks, a family car, Space availability is very good. Reasonable price, easy to drive.

It is a nice and good looking car. It offers the best mileage for the best price. It also has a very good leg space. 

It's an amazing and comfortable car at this price. I am using a zeta CVT variant car which is a hassle-free car. I love my Maruti Suzuki Baleno.

It's a very good car which has very good features at a very competitive price. It's good on milage and comfortable in the drive.

Maruti Baleno is an amazing car and looks-wise best car. It's spacious and stylish. Unbelievable price! Love the style outstanding exterior design. Bit compromise about the material used to build a car is low. और देखें

Its the best car in terms of a comfortable, durable, affordable, and good price. The styling of the car is also amazing in the class. 

The all-new Maruti Baleno car is a very amazing design. it is a hatchback car and the price of the Baleno car is genuine.

First of all, Maruti Baleno has an incredible design with comforts like a pillow. The ride quality and feel are just luxurious enough to meet the needs of a common man. From my viewpoint it is the flagship for its price and performance, there's a lot to explore about this beast and significantly, I suggest that if anyone is looking for a quality ri...और देखें

Beleno is a nice car, at the best price in the segment. 

Maruti Baleno comes with a very spacious cabin and good ride quality. It feels comfortable to drive in the city and feels confident enough to take it on highways. Easy to maneuver in small space. From the day I bought it I had a complaint with the steering wheel, it was very tight but the service engineer said that it was just because it is a new c...और देखें

I have been using Maruti Baleno car, actually 2016 year model, used for my family purpose. This is the one of best premium hatchback I have seen until 2018 and this car can go triple digits without any issue and the Maruti NEXA service is good. They have many service points- it is price friendly service. For my car, the service bill never exceeds R...और देखें

All black interiors price and fuel efficiency, loaded with all essential features UV cut glasses. Excellent cabin and boot space; decent headroom smart-looking TFT MID. Excellent touchscreen infotainment system comfortable seating position driver and passenger. Peppy K12 engine, driveability, and handling. Bland looks when viewed from the front Ord...और देखें

A car with all the feature with a low price, any middle-class family can buy it has very interesting features which need to be in the budget. We feel happy when we drive this car especially the function ABS and the sound, airbag, brakes, power steering, the light and the control in 120 speed is also nice. और देखें

Amazing features great value car, additionally loaded with more features than other cars in the same price range. Excellent mileage on road, durable and perfect design for a long drive. और देखें

Comfortable sitting with a lot of space. The boot capacity is good. Best price.Fabulous vehicle. 

It is very nice and a beautiful car at this price. It also gives a very good average.

Maruti Baleno is the best car in the lowest price, Nice look, Nice pickup and speed is very good, 24.8 km / 1 Ltr. I have Baleno from last 15-16 months and And Maruti company is very good for services. I have changed 4 cars in 1 year than I buy Baleno car and I love this car so I an using from last 16 months nice car for officers and for traveling ...और देखें

Maruti Baleno is supercar with super mileage at a good price value.

Perfection at its best with respect to the price. It comes with easy handling with all the safety features. There are less good roads but when it comes to good road, driving this car is like a viscous flow. You will get a comfortable driving experience with quality. और देखें

क्या आप उलझन में हैं?
अपना प्रश्न पूछें और 48 घंटों के भीतर जवाब पाएं।
User Reviews on बलेनो Alternatives
*नई दिल्ली में एक्स-शोरूम कीमत
यूजर्स द्वारा इन्हें भी देखा गया
1 Offer
On मारूति बलेनो :- Saving अप to Rs. 40,00...
few hours left