बीएमडब्ल्यू 3 सीरीज यूजर रिव्यू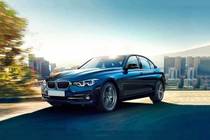 35 reviews
Rs. 39.8 - 47.3 लाख*
नई दिल्ली
में
बीएमडब्ल्यू 3 सीरीज यूजर रिव्यू
All (35)
Mileage (14)
Performance (5)
Looks (20)
Comfort (15)
Engine (10)
Interior (10)
Power (9)
और...
It's a nice car in this price segment, I think that at this price all the features are justified and are very good.

This is the most powerful car I have ever driven. Beautiful interiors, good average around 13 Kmpl, perfect interiors features. It's sport mode drive insane, more powerfu...और पढ़ें

Two years back I was looking for a competitive vehicle against the likes of Mercedes Benz C Class and Audi A4 because I don't like both these brands. There were only two ...और पढ़ें

Who doesn't want a car with great styling and road presence and that too available within your means? At least I will not lose this opportunity. The moment I heard the ne...और पढ़ें

Best in class, BMW 320i gives smooth ride with comfortable seating space. Mileage is around 10kmpl. The look is still superior with respect to other cars. Superb car.

BMW 3 series cars company are great. It's undoubtedly awesome work. This car is so beautiful and so powerful and I'm proud that it's makers are great and really talented....और पढ़ें

BMW 3 Series is an excellent car, its speed and looks are amazing. The color red is incredible, its interior is luxurious and its exterior loos sporty.    

BMW Libra & BMW D India have failed to fulfil their commitments of getting BMW GT 3 series registered & issuing a Registration certificate. I purchased BMW 3 series GT fr...और पढ़ें

BMW 3 Series has almost all luxury features. In this segment we can say, it is the best. It also is a value of money.

Superb handling, response and performance, good fuel economy, stylish design, useful features. One of the best commercially produced diesel engines. awesome looks, awesom...और पढ़ें

I have had one my daily driver and I can tell you the ride is much sporty as compared to the Mercedes C Class or the Audi A4. The interiors are much better and give a per...और पढ़ें

Look and Style - By far the most modern looking BMW. It looks meaner and sportier than the outgoing 5th generation 3 series. Especially, the corona rings (LED) are a tr...और पढ़ें

Look and Style: There cannot be any car (sedan) which can match the clean lines of the beamer. The imperial blue colour adds to the style, glamour or whatever quotient yo...और पढ़ें

Look and Style: The car's Looks are good. Comfort: Ok. Pickup: Pickup is also good. Mileage: I get around 11 kmpl. Best Features: Looks and Brand name, that's it. Ne...और पढ़ें

First and foremost, this is a facelift of the BMW 3-series GT, perhaps the most underrated of the Bavarian brand's models in India. It's got as much rear legroom than a 5...और पढ़ें

Fantastic car with great surge once the gas pedal is depressed but only the ride is bumpy because of run flat tyres. BMW's boot has no space for any spare tyre. Also, the...और पढ़ें

Look and Style: Extremely good looking, frameless windows make it look leagues apart. Comfort: Great comfort, it has more legroom, more than 5 series. Pickup: Very nice...और पढ़ें

Look and Style: The 3 Series BEAMER has always been the best selling not just because it is the entry level sedan of this class of luxury sedans but also because it alway...और पढ़ें

Look and Style excellent but paint quality should be better.   Comfort Good Pickup excellent Mileage between 15 to 16.5 . total driven 92000km. Best Features looks , driv...और पढ़ें

Dont touch a BMW even with a barge pole!! I was shocked to find out the hard way that after paying to much money, I get an alleged brand new bmw 320d in march 2011, that ...और पढ़ें

Look and Style-This car has the looks to die for...Seriously it looks better then Audi A4 and A6.. Has a very good exterior look ..even interior looks very good..You can ...और पढ़ें

This car is simply amazing...it is excellent at a thrilling price of just 25,50,000/- which is the range of the other big sedans such as the Skoda superb or the accord, o...और पढ़ें

Look and Style-It looks too emotionless. I think it is ugly, and I would rather have a Mercedes C-class. Comfort-For bigger people the entering is difficult. The seats ar...और पढ़ें

Look and Style: Gorgeous looks n built quality Comfort : btter for a mddle class bmw user Pickup : much bttr dan anything i hv rid Mileage : minimum of 10 km/ltr Best Fea...और पढ़ें

Look and Style : BMW has the most amazing look I have ever seen. Comfort-best in its class Pickup : No one can compare it. Mileage : Best in its class. Best Features : En...और पढ़ें

Look and Style: Awesome. Comfort:  Excellent hough you miss arm rest in the rear seat Pickup: It can zoom ahead of all waiting vehicles at a red signal Mileage: Around 10...और पढ़ें

Look and Style-Looks awesome and stylish.  Comfort-Very Very comfortable but for only 4 adults. Legroom should have been more. Pickup-9.39 seconds from 0 to 100.  Mileage...और पढ़ें

Look and Style-Good Looking Pickup-Pickup is Good. Mileage-mileage is good. Overall Experience-A very nice Evening Drive.This is easily one of the best cars you'll ever d...और पढ़ें

क्या आप उलझन में हैं?
अपना प्रश्न पूछें और 48 घंटों के भीतर जवाब पाएं।
Rs.39,80,000*ईएमआई: Rs. 92,988

22.69 KMPL1995 CCऑटोमैटिक

Key Features

Steptronic 8-Speed Transmission
BMW Secure Advance Package
Automatic 2Zone Air Conditioning

Rs.45,30,000*ईएमआई: Rs. 1,05,340

22.69 KMPL1995 CCऑटोमैटिक

Pay 5,50,000 more to get

Multi-Spoke 17" Alloy Wheels
Burled Walnut Fine-wood trim
BMW Kidney Grill With 11 Slats
अधिक कार विकल्पों पर विचार करें
3 सीरीज विकल्प पर उपयोगकर्ताओं के रिव्यू

*नई दिल्ली में एक्स-शोरूम कीमत
यूजर्स द्वारा इन्हें भी देखा गया
ट्रेंडिंग बीएमडब्ल्यू कारें