A cure for Traffic
A cure for Traffic
The Maruti Suzuki Swift. The best hatchback ever. It must be. Because the internet is filled with a review after review of how great it is. I am a fan too. But is it the best car for you? Like most other people, I ignored that question and made up my mind to buy a Swift. But a friend of mine persuaded me to test drive a Nissan Micra. So, I did. My ten-minute test drive left me unimpressed. Sure, the Micra had a few bells and whistle, like keyless entry or push button start, which were first for that segment. But, Micra was not a car I would fall in love with at first sight. Today, I am glad I didn't base my buying decision on that 10 minutes' drive. Even as I drove my new car to my beautiful hometown, I was not too sure of my decision. But then a weird thing happened. I took the car to Bengaluru and it all started making sense. The smile on my face grew bigger every time I drove it. Before I knew, I found myself reaching for the Micra keys more often. The reason - Traffic. Surely, it's not just the size. Neither a smaller nor bigger car waded through traffic like this one. The Micra is one of the most fluid cars I have ever driven. The torque band, the adaptive steering, the visibility, the light clutch, and the incredibly light body somehow makes flowing through traffic effortless and fun. I knew Renault-Nissan makes some great engines. I knew, even Mercedes deems Renault-Nissan engines fit for some of their cars. But I didn't expect much from a tiny 3 pot petrol engine. The numbers are meager on paper, compared to the competition. But the way it serves up what it has got is pure electronic wizardry. Although vocal, the engine is eager and revs crisply. The pull from standstill is quite strong. The low-speed torque is good for a petrol engine of this size. With the back seats empty, you will not have be complaining about punch. However, when fully loaded with friends, the engine's lack of power is exposed. Although the steering lacks any road feel, it more than makes up for it in ability. It's immediate in response at low speeds and weights up nicely as the speeds climb. Once you get used to it and you will love it. The clutch is light and offers good modulation making inching through traffic or dumping the clutch with precision fairly easy. The brakes have a nice progressive bite and surprisingly the brake feel didn't degrade over time. Off course, the Micra has drawbacks. The gear box for one weakens this whole experience. The gear ratio is fine and works quite well in traffic. But the shifts are messy. The Micra gears are wire driven and hence would never give the nice slotting feel you would find in a ford. Say what you want about the looks. But from inside, it really works. While other swanky looking hatches leave you feeling like you are watching the world through a 32 inch TV, in the Micra, you feel like you are in a 70mm movie. The glass panes all around are large and well angled. The result - you can place your car precisely through traffic; you can sit through hours of traffic a little more easily, and your passengers may not faint from claustrophobia. Rear visibility is good too. The seating height is Ok, although a little higher would have worked well with the theme here. Is it fun? That depends on. If you are looking to tear the lap record in a high-speed circuit, it's not the right tool. However, for an occasion indulgence on a country road, the Micra can hold its own. The lightweight body is predictable and forgiving. It's easy to find the limits and intuitive to control when you lose adhesion. Having said that, if performance is your prime concern, you have better alternatives to consider. Running Cost! What running cost? Although the sheet metal may look flimsy, mechanically it is a very durable car. Many miles through missing roads, hardly had any impact on my service cost. In comparison, I have changed the engine mount at least 3 times in my Honda. Talking of service, so far I am impressed with most Nissan service. My petrol economy never dropped below 16.5 kmpl so far in the city. The upcoming 2017 model has me very interested. So yes, the Swift or the Jazz may be better packaged overall. But for those like me, who have to endeavor hours of traffic every day, the Micra makes life a bit easier.
निसान माइक्रा पर अपना कमेंट लिखें
निसान माइक्रा यूज़र रिव्यू
सभी (122)
Mileage (47)
Performance (24)
Looks (41)
Comfort (35)
Engine (22)
Interior (24)
Power (21)
More ...
It's packed with the necessary features right from the base variant. The ride quality is amazing. Clutch is a little tight. It's hard to engage 1, 2.

Good car but high in maintenance cost with a great mileage but the problem is lower ground clearance.

This is a perfect family car to drive in the city traffic areas. With great looks and style and a powerful engine.

I am fully satisfied with my Nissan Micra car. It is a family-friendly car easy to drive in cities. And ladies also can drive this car easily. My car is a diesel car and ...और देखें

Nissan Micra is a power-packed car. It is strongly built and comes with decent features. According to me, the main drawback is that the height of the driver seat is not a...और देखें

Nissan Micra diesel car is very good, comfortable and has good safety features. Car's mileage is amazing and also has some issues with bumper lock and maintenan...और देखें

One of my best choices ever. Wonderful driving experience. Ergonomics are amazing. Pure driving joy and amazing performance. Spacious, smooth, nice suspension, amazing ha...और देखें

सभी माइक्रा रिव्यूज देखें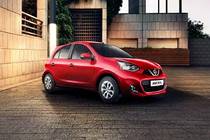 Rs.5.99 लाख - 8.13 लाख*
इस कार मॉडल की समय सीमा समाप्त हो गई है
यूजर्स द्वारा इन्हें भी देखा गया
×
We need your सिटी to customize your experience