रिट्ज ऑफर nothing compared to its competitiors
Ritz offers nothing compared to its competitiors
I did a lot of study about Ritz because I wanted to buy one. I am extremely choosy and make a lot of studies to take a purchase decision. Forgive me if my findings are baseless or illogical. Rits became very popular in a month but when compared to its competitors, what does Maruti offer in its Ritz LXI model with a price tag of 4.18 lakh on road? 1. No power windows even at driver side 2. No central locking 3. No remote opening / locking (keyless entry) 4. No tubeless tyres 5. No height adjustable driver seat 6. Nobody coloured external mirrors and handles 7. No extra controls on steering wheel 8. No fog lamp 9. No front seat under tray 10. Not even MP3/FM player (I do not mean expensive CD player) 11. Not even a pocket behind rear seat which costs nothing! Points 1-5 cost maruti some price but points 6-11 cost not much to maruti. I can't imagine why even the body coloured OVRM and handles are not provided! How much does it cost maruti for some paint? How much does it cost for the seat back pocket? How much does it cost for two fog lamp bulbs? Are these minor specification good enough to distinguish between LXi and VXi? Isn't it a cheap bargaining? To fix front power windows, a customer has to pay minimum of Rs. 5000. But for the company, it would have costed only 1/10 of it because they take it in a bulk of ten thousands or lakhs. So, it is a minor issue for the company to fix such things. They could have added that extra price to the cost of the car. Why they did not do so? THEY WANT TO MAKE A MARGINAL DIFFERENCE BETWEEN LXI AND VXI. A deluxe customer who lured into these minor luxuries will end up in buying a VXI by paying an extra 60,000 . OK, it is a business trick but doesn't it sound too money minded.. Have you observed what the I10 Magna offers even at a lesser price (4.11 lakhs on road)? Central locking, Body coloured OVRM, Handles, Full wheel cover, Tilt steering, 4 Power windows, Rear wiper/ washer, Boot lamp, Door ajar warning, Seat belt warning, Rear parcel tray, Tubeless tyres, Better quality and bright dashboard, Vanity mirrors etc. Now just see what all Punto 1.2L Active (base model) with in the same price range gives: Tilt adjustable steering, Front power windows, Rear parcel shelf, Seat belt warning and a few extra but decent features like fire prevention system, much wider tyre etc. My intention with this review is to show what the Ritz offers with 4.18 lakhs and whatI10 offers with4.11 lakh which is Rs.7000 less than that of Ritz. (Rs. 411284/-quoted by Smara Hundai New Delhi on 20/6/09). Forget all Lxi,Vxi classification. See what features they offer with what price. CUSTOMERS ARE MAINLY CONCERNED WITH PRICE RANGE AND FEATURES RATHER THAN WITH LXI AND VXI. The following cons also hold me from going for a Ritz 1. Its awkward back (in course of time people may like it) 2. Very gloomy interiors especially dash board (why it is so dark when I10 offers such a bright beige colour?) 3. Not at all colourfull interiors (See punto's dash board) 4. Cheap interior plastic (Learn from old Santro) 5. High price (Not price worthy) 6. Lack of above mentioned basic features in Lxi and even in Vxi 7. Very rarely found on the roads (Why?) 8. Back seat not double foldable. (Even a decade old santro has this!) 9. Yet to be tested on Indian roads (Let time prove) 10. No schemes or discount available yet (So proudy?) Then what is more in Ritz compared to its competitors? The so said Fuel Efficiency and a 60:40 split seat . FE has yet to be proved in real driving conditions in coming months. I still love Ritz if it really gives the claimed mileage. But how can Ritz withstand when it cannot give what its competitiors are giving? Maruti should give customers something when they pay a price of >4lakh! I have mainly reviewed the interior aspects of Ritz. Size wise Rits is a big car but can only the size attract all customers? I do not blame Ritz but Maruti could pay some attention in interior also. Thank you readers.
मारुति रिट्ज यूज़र रिव्यू
सभी (212)
Mileage (122)
Performance (32)
Looks (140)
Comfort (134)
Engine (74)
Interior (67)
Power (61)
More ...
Best in its class with great pickup and overall stability. Feels like punch while cruising on road and highways.

The Maruti Suzuki Ritz comes with automatic transmission and premium dual tone interiors that make you experience the joy of comfort whenever you sit inside it. Its uniqu...और देखें

Our car is good it is in good condition. It is five seater car it looking very nice and its look is very amazing and its color is silver

The Maruti Suzuki Ritz VDI is best in its segment, the best part is the look & Mileage of the car, the turbo boost of the car is so fast and we never feel lazy while ...और देखें

Flashback to June 2010. The location is Delhi. The sun is out in all its glory. They don't call it an Indian Summer for anything. I'm getting ready to go to work... but l...और देखें

Finally, I have chosen Maruti Ritz Vdi after gone through all top car reviews of owners. Please find below My experience. My Requirements: - Spacious Front Seating Area, ...और देखें

Hi all, Took two test drives of the Ritz before finally settling on booking the Vxi today...due to the waiting delivery would be only on dassera...end of September. The c...और देखें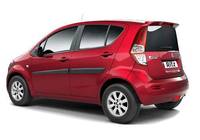 Rs.4.30 लाख - 6.58 लाख*
इस कार मॉडल की समय सीमा समाप्त हो गई है
यूजर्स द्वारा इन्हें भी देखा गया
मारुति रिट्ज पर अपना कमेंट लिखें
48 कमेंट्स
1
c
chishi
Jul 27, 2015 7:25:41 PM
Maruti is taking advantage the brand image and cheating customers. No doubt the company has made a good image but the features provided for the money customers pay is not satisfactory
और देखें...
जवाब
Write a Reply
1
A
aravind
Jul 15, 2013 5:15:01 PM
i wil not agree with you....... because ritz is the best hatch back in india....... check out youtube......... you can see the review of 10 cars. they have tested in different latitude......... wit these cars and experts says ritz is the best........ i bought a ritz vdi 2 years ago and there is no problem wit the car........ i doesn't want to take my car even to a workshop other than a small accident. till now......... it have been now 28000km...... i can't understand why this guy is comparing this car with i10 and punto....... they have different power and tourque and its engine specification is totally different............. ritz offers more power and torque and more space..... if you want more features you can go for vdi.. there is much more features than other cars.. even though ritz does not have and offers it have been sold more than i10 and punto........ it is not only for ritz. maruthi's all cars base model have the same features......... i bought ritz because i love it....... if you love i10 you can buy that. no one is forcing you to buy ritz......... so that DONT BLAME RITZ because of its features........................
और देखें...
जवाब
Write a Reply
1
p
pravesh
Jul 31, 2012 8:55:38 AM
Ritz is better than all other hatches idiots. My ritz diesel goes for 190km/h. n other hatches dont have such power. specially in diesel. ritz diesel is seriously empowered with huge power.. i love my ritz and will buy another one again. love u ritz.!
और देखें...
जवाब
Write a Reply
×
We need your सिटी to customize your experience