Biggest Hatchback with a 1200 cc engine at least कीमत
Biggest Hatchback with a 1200 cc engine at least price
I was driving a Non-AC Maruti-800 since year 2002 which was purchased by my father at that time. That Maruti-800 is still in a good condition but everybody knows that it?s not that spacious and also as it was non-AC so it was horrible to drive it in summers. Since Feb 2016 I was thinking of purchasing a new hatchback car (with AC). I am a self employed man who works from home through online means and who belongs to a middle class Indian family and my budget was not that high. I was feeling very much confused while selecting a new car as there are available so many options in the market these days. Also I was apprehensive because while selecting a new car I had to make a very correct decision so that my hard earned money doesn?t get wasted. I was afraid that if I make some wrong decision in the selection of new car then I would have to regret afterwards and which was going to be painful for me. I have got a technical bent of mind and my outlook while selecting a new car was going to be objective and not subjective, which means I was not going to pay attention to the luxury features + overall design and looks of the car (which is a criteria of majority of the people these days while they select a new car) but I was more interested in knowing the technical aspects of the car. I had absolutely no aim of increasing my status in the society by purchasing a new expensive car in an order to receive admiration from others. I could do without many features that are available in expensive cars like rear defogger, rear wiper, Anti-Lock Braking System (ABS), Electronic Brake-force Distribution (EBD), Brake Assist (BA), speed sensing door lock, parking sensors, vanity mirrors on sun visors and various other luxury features as these were also not available in Maruti-800, after all my only aim was to upgrade my car from a 14 year old Non-AC Maruti-800 to a bigger, better, taller and air conditioned car with a much better engine strength. I studied about various hatchback cars on the internet and then I observed that majority of reputed expensive hatchback cars of different brands like Maruti Baleno, Maruti Swift, Maruti Ritz, Ford Figo, Fiat Punto Evo, Toyota Etios Liva, Honda Brio, Hyundai Grand i-10, Hyundai Elite i-20, Mahindra KUV-100 and Honda Jazz were having a 1200 cc petrol engine with 4 cylinders and 16 valves (irrespective of their engine strength in terms of BHP power and NM torque). Hatchbacks like Volkswagen Polo, Nissan Micra, Renault Pulse have got a 1200 cc petrol engine with 3 cylinders and 12 valves. In fact in sedans like Maruti Swift Dzire, Hyundai Xcent, Honda Amaze, Ford Figo Aspire, Volkswagon Ameo and Chevrolet Sail a 1200 cc petrol engine with 3-4 cylinders and 12-16 valves has been incorporated. It simply proves that a 1200 cc petrol engine with either 3 or 4 cylinders and 12 or 16 valves is being considered as a standard by automobile companies to be incorporated in reputed expensive hatchback cars as well as in entry level sedans. After knowing that, I had determined that I was going to purchase a car which was going to have a 1200 cc petrol engine with 4 cylinders and 16 valves. On road price of above mentioned cars was around rupees 6 lakhs or more. I could spend only 4-5 lakh rupees as down payment. Now if I had to purchase a car out of the one mentioned above then I had to either take a loan of 1-2 lakh rupees from some bank or I had to shell out 1-2 lakh rupees extra from my bank account which would have brought me in a financially tight situation. Other problem was: - I don?t like dwarf cars and I was interested in a very tall + spacious car and out of the one mentioned above only Maruti Ritz & Mahindra KUV-100 have got a tall boy design but I wanted an even taller and more spacious car. Now Maruti Wagon-R has also got a tall boy design & it is even taller than Maruti Ritz but it has got only 1000 cc engine with 3 cylinders whereas my aim was to buy a car having 1200 cc engine with 4 cylinders and 16 valves. Also boot space in Wagon-R is very less and its tyres are very small and thin. Tata Nano has also got a tall boy design but again it?s got only a weak 624 cc engine with only 2 cylinders and also it?s very small in terms of boot space. After a lot of research I could found only one car (Eeco) which suited me in every manner and that too from the brand of Maruti Suzuki (which is having largest support network in India and which is considered as the best in India in terms of providing after-sales service). On 23rd May 2016 I have finally purchased Maruti Eeco 5 seater with AC + heater at an on road price of only rupees four lakhs and am really proud of my decision. Before buying I also took its test drive and was very happy with it. Eeco has got that 1200 cc engine with 4 cylinders and 16 valves which were desired by me. Eeco is the only car on Indian roads which is offering a 1200 cc engine with 4 cylinders + 16 valves at the most economical on road price of 4 lakh rupees. Exterior: Tall Boy design (height is 6 feet which is slightly more than that of Toyota Innova). Majority of SUVs are 6 to 7 feet tall. Eeco can be considered as a small SUV or an SUV for middle class Indians. Size of the tyres is good in Eeco. It has got very good ground clearance like that available in reputed SUVs. Eeco can be considered as a smaller sister of Toyota Innova. Eeco is taller than Maruti Ertiga, Wagon-R, Maruti Ritz and Tata Nano. Eeco is the tallest and the biggest hatchback available in the market. It is considered as a van but I consider it as an SUV for a middle class Indian. Interior (Features, Space & Comfort): Very spacious with nearly 540 litres of boot space, very comfortable high seating (like that available in majority of SUVs) with very good leg space and very good head space, good under thigh support, good for long journeys. Engine Performance, Fuel Economy and Gearbox: Very smooth & responsive engine, good fuel economy & very smooth gearbox with diagonal shift assist. Ride Quality & Handling: Excellent ride quality which is comparable to that of an SUV due to its tall and spacious design & high seating and noiseless engine and good suspension. Handling is easy though it takes some effort in using rear sliding doors. Steering is very light so absolutely no need of power steering (take a test drive and you will come to know about it). Minimum turning radius of Eeco is much less than that of Maruti-800 and which is an achievement. Braking system of Eeco is very effective. Final Words: Middle class Indians who are planning to purchase an Alto-800 or Alto K-10 or Wagon-R or Tata Nano or any other hatchback car should consider buying Eeco. Many people don?t buy it because it is heavily used as a school van, as an ambulance and as a taxi. It is also heavily used by many budget hotels to pick and drop their guests from/to railway stations and airports. It is also heavily used by many businessmen as a commercial vehicle for transporting of goods. But according to me, middle class Indians should not feel shy and purchase it and save their hard earned money. The fact that it is being heavily used as a commercial vehicle doesn?t reduce its importance as a domestic vehicle. According to Maruti people and according to automobile experts it is an MUV (Multi Utility Vehicle) and can be used as both: - A domestic vehicle and as a commercial vehicle. Cost of Eeco is only nearly one lakh rupees more than that of Tata Nano & it?s about rupees 50 thousand more than that of Alto-800 & somewhat less than that of Alto K-10 & one lakh rupees less than that of Wagon-R. Areas of improvement: In the on-road cost of 4 lakhs it doesn't needs any improvement as it is already giving so much. Important Note: - Eeco is not meant for those middle class Indians who are working in some organization and who wish to purchase a car exclusively for their daily commuting (Home -> Office -> Home). Such people should go for smaller cars which comprise of smaller engines like Tata Nano or Maruti ALTO-800 or Maruti ALTO K-10 or Maruti Wagon-R or Maruti Celerio or Hyundai Eon or Datsun RediGo or Renault Kwid (depending upon their budget, choice and availability of after sales service of that car in their area). Small and light-weight cars with smaller and less powerful engines will help save fuel. In those small cars CNG versions or getting fitted a CNG kit will be even more helpful.
मारुति ईको यूज़र रिव्यू
सभी (271)
Mileage (54)
Performance (32)
Looks (32)
Comfort (69)
Engine (27)
Interior (15)
Power (35)
More ...
Best car in the segment. Most practical and fuel-efficient car in the world. It qualifies for a green vehicle that serves both eco-friendly and public transport tags.

"Maruti Eeco: A Budget-Friendly Option with Ample Space and Good Mileage" My buying experience with the Maruti Eeco was smooth and hassle-free. I shortlisted this car for...और देखें

Eeco is the best car for business and family both. It gives great mileage and the performance is also excellent. It has a very spacious interior and t...और देखें

It's a cool van that allows you to equip all the stuff on the go. Powerful engine with a nice pick-up. Comfortable ride quality. Good air-conditioning. It has been provid...और देखें

I have a Maruti Suzuki Eeco 5-seater AC CNG. This is Maruti Suzuki Eeco negative. The mileage is very bad. It starts on petrol and drives on CNG. Eeco is not st...और देखें

Very good features, quality, and performance car for middle-class families. Its maintenance and comfort are also good.

When the Eeco was launched, the price of the car was low, the middle-class family could comfortably buy this car, but now the safety in this car is still not good, and th...और देखें

Compact and easy to drive and carry a lot of luggage. Low Maintenance cost. Comfortable and easy to drive, Economical when driven at uniform speed results in good mileage...और देखें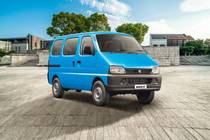 Rs.5.13 - 6.44 लाख*
*एक्स-शोरूम कीमत नई दिल्ली
Rs.5,13,200*ईएमआई: Rs.10,751
19.71 किमी/लीटरमैनुअल
Key Features
Rs.542,200*ईएमआई: Rs.11,348

19.71 किमी/लीटरमैनुअल

Pay 29,000 more to get

Rs.5,49,200*ईएमआई: Rs.11,507

19.71 किमी/लीटरमैनुअल

Pay 36,000 more to get

एयर कंडीशन
एंटी-थेफ्ट डिवाइस
fabric upholstery
यूजर्स द्वारा इन्हें भी देखा गया
Write your Comment on मारुति ईको
1 कमेंट
1
S
shrinivas
Oct 22, 2017 6:16:28 PM
THANKS FOR THE INFO - VERY USEFUL AND HELPED TO TAKE THE RIGHT DECISION.
और देखें...
जवाब
Write a Reply
×
We need your सिटी to customize your experience