Bad Car with very cheap इंटीरियर
Bad Car with very cheap interior
I am not a automobile engineer or kind of. I can share my recent experience as a common user only, as I purchased a Bolero ZLX just 2 weeks back. I am a Bangalore based and purchased the car from St. Marks Road India Garage. Exterior All good. They did a lots of improvements. Being a Bolero lover it is nice to see..... Although initially Sales people didnt inform that with ZLX version, they cannot fit the rear wheel cover (the new sporty cover), only at time of delivary I found it, so better be carefull... Interior (Features, Space & Comfort) The interior they tryed to improve, but failed totally. Very very cheap plastic work, not going with Mahindra's/Bolero's toughness. After purchasing, first day only I faced the below issues 1. Aircondition stopped working. switches came out....after checkup they confirmed that there was a issue with some part and needs to replace (2 days new vehicle !!! ) 2. sound system speaker and other stuff came out from its fitting position, after complaining, they fixed it with fevicol :-( 3. Plastic they used very very bad quality and didnt do any kind of "good" finishing work 4. Charger point broken on first day itself, after complaining they replaced (!!!) 5. Micro-Hybride was not working due to seat belt problem Once they rectified few of them (air condition parts yet to come, and I am waiting for past 10 days!!!), then after 2-3 days again I faced the below issues (still I am facing these and god knows when they will get time to fix these) 1. Lots of sound comming from Break (when ever I am using break) 2. Sensors not working; always showing fuel tank is empty (showing the signal on digital board ) 3. continuously "voice assisting" - "the car is running in reserve fuel" though the fuel tank is full 4. always showing the "High tempareture of coolent" and other details wrongly Engine Performance, Fuel Economy and Gearbox As of now I drove around 2000 KMs and getting around 8 KM/liter as a milage. When I contacted the company sales guy, they told it will be fine after sometime and I will get a improved milage. So waiting for that good day to come   Final Words I was always  a great fan of Bolero for past 10 years or so. But with the kind of experience I had in last 2 weeks I will not recomend anybody to purchase any Mahindra Cars now onwards. I feel the Market is very good for them as everybody is looking for Deasel car and more a Utility kind of vehicle ..........so they are not giving enough attaintion towards Quality test before despatching the Car and Customer Satisfaction... Areas of improvement   Lots of, as, first thing they need to improve the customer service and satisfaction. They need to understand, when somebody purchase a car (a high end varietion specifically), the kind of expectation customer could have. Apart from increasing market and sales, they should think how to maintain their own reputation. I was a follower for Mahindra for past 10 years and obviously, I will never think of Mahindra Cars in future and I am regreting about my decision this time as well
महिंद्रा बोलेरो 2011-2019 पर अपना कमेंट लिखें
1
p
prathamesh
Jul 10, 2018 9:33:59 AM
This is false review totally.... I agree bolero interior quality is not at par with scorpio or other cars but mechanical issues which user has described seems totally false as bolero or every other Indian car goes through serious quality testing so many issues from the same car...... doesn't seems fair dude so many systems cannot fail simultaneously....
जवाब
1
M
muntu
Dec 19, 2017 11:53:55 PM
Im also planning to buy bolero , but now im quite confused.....!!!!
जवाब
1
S
savalram
Dec 16, 2016 7:44:38 PM
I WANT CAR BOLERO
जवाब
महिंद्रा बोलेरो 2011-2019 यूज़र रिव्यू
All (128)
Mileage (31)
Performance (17)
Looks (36)
Comfort (41)
Engine (31)
Interior (17)
Power (32)
More ...
The fuel efficiency is as good as any other vehicle in the SUV/MUV bracket. Moreover, this vehicle is shorter in length and thinner in width than almost all other competi...और देखें

I am having the Mahindra bolero since from 2012. The car is very good at offroading. But the interior can be more luxurious, the third-row seating can be in bench seats t...और देखें

Mahindra Bolero has a well-built quality and stronger than all other cars in the segment. It has excellent engine performance. Off-roading is also nice. Even though its a...और देखें

Very good pickup, very good mileage, low maintenance, very good safety, body quality, and very strong Bolero. It fits for all types of roads.

For off-road, this car is the best. The AC is not good. It comes with 8 seating capacity but it provides space more than that.

I have Mahindra Bolero and It has been good family off-road vehicle for me, also helping me in a support role for agricultural ops, crossing 3-4 feet deep water of mighty...और देखें

Superb SUV, its maintenance is also not so high and the driving is amazing. The pickup and suspension are also good.

In 2014 when I bought Mahindra Bolero. I felt very happy, that I have brought a very sporty car, but now I am feeling very uncomfortable and now I want to sell it. It giv...और देखें

सभी बोलेरो 2011-2019 रिव्यूज देखें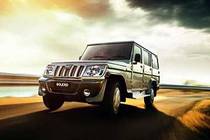 Rs. 4.94 लाख - 9.42 लाख*
इस कार मॉडल की समय सीमा समाप्त हो गई है
यूजर्स द्वारा इन्हें भी देखा गया