लिनिया डीज़ल Emotion (7th अगस्त 2010)
Linea Diesel Emotion (7th Aug 2010)
Yesterday I went for the test drive, the looks are really attractive and yes it is indeed a sedan. the interiors are really stylish and the controls on the panel of driver's side give amazing feeling as that of a cockpit. I feel this is 1 of the better choices among other cars between 8 to 10 lakhs for mileage being the foremost and the engine durability as well. Well I am yet to buy this car & will post more once I am done with it.
फिएट लिनिया पर अपना कमेंट लिखें
1
A
aditya
Nov 29, 2011 3:13:10 AM
go for the verna fluidic
जवाब
2
p
parag
Feb 11, 2012 1:32:36 PM
Read the actual road test for Fuidic before u buy.... its coslty as well as jittery on corneers at high speed... light metal used to reduce the wt and increase mileage.. safety is concern....... as per me it gvs the same mileage or may be less as that of fiat... however low speed acceleration is muct bettr in verna
जवाब
1
m
muralidhara
Dec 17, 2010 10:18:13 PM
I intend to purchase linea emotion pack petrol..... but worried much after reading the reviews about ground clearance , a/c performance and pickup ....... Can anybody sincerely advice me about this .. should i go for this car or not ? ...then if not this car , then which car should i go for in the same price tag ? plaese reply soon ...
जवाब
1
N
naren
Dec 14, 2010 4:41:21 PM
I am pleased to update my previous comments: After covering 2000 kms I have obtained the following results: 1.Lowest milage------12.5 kms/litre in heavy traffic with frequent stops at redlights. 2.Maximum milage------22.8 kms/litre across a stretch of 237 kms of which about 100kms was a four lane National Highway and balance was the state highway which was in terrible condition ( Nagpur to Jam --NH7, Jam to Bhadravati, near Chandrapur-- state Highway) 3. Average milage across 2000 kms of which 40% was in City---15.21kms/litre. Please note I have found that to obtain the best milage always change gears so as to run the car at an engine RPM of 2000 when the car produces the max. torque. this holds for city driving also. Fiat in the new T-jet has changed the tyres to 205/65/R 16, i.e they have changed the Alloy Wheel Rim size From R15 to R16 which is 1 inch larger in diameter. I hope this answers Mr. Arora's query. I have achieved the same with the Tyre size mentioned in my Previous Comment. A colleague of mine who discarded his old tyres on the Linea and copied my idea reported that he was totally amazed by the change in feel and drive of the car. Stability improved dramatically in the worst road conditions and the drive in sharp turns was very positive. As far as the AC is concerned I have faced no problems. My normal auto setting on the climate control is 20 deg C. In City driving I keep the air circulating internally only. In case it is a hot day I just increase the Fan speed while still keeping in the auto mode. There is one more tip: Purchase a Digital Tyre Inflator (not one of the cheap chinese makes) from Link Image Makers , Pune costing around Rs.3000 (tel: 020-24495739). The advantage of this is you can digitally set your tyre pressure on the instrument in psi/bar/kpa. The instrument runs from the 12V supply near the gear changing lever. You have to just connect the nozzle to the tyre nozzle and start the instrument. The Instrument automatically stops when the correct tyre pressure is reached. I find that once in 3 days or before a long drive is enough. It takes approx 1 to 2 mins per tyre. Maintaining the correct Tyre pressure will increase the life of the tyres and maintain the milage obtained at the optimum.
जवाब
2
T
tanmay
Jul 4, 2011 2:40:36 PM
Hi Naren, I too copied your idea and changed my front tyres of Line MJD to R15/65/205, but i am skeptical to put the same in rear, as m concerned that the tyre shouldnt rub against the arc when it is loaded with 3 passengers.Whats your experience.Awaiting your reply eagerly.
जवाब
3
N
naren
Jul 4, 2011 11:39:42 PM
Hi Tanmay, I have faced no problem of the tyre rubbing against the arc with two passengers sitting on the rear and the dicky fully loaded with luggage. After covering nearly 7000 kms in the car, on long distance highway driving I am regularly clocking an average above 20.5 km/litre (without applying any correction factor for the increased diameter of the tyres, with the correction factor the average becomes 21.15 kms/litre). There is no noticeable wear on the tyres as yet.
जवाब
4
T
tanmay
Jul 5, 2011 5:44:57 PM
Hi Naren, Thanks for replying ! Actually, i changed my rear tyres to R15/65/205 today itselves and tested them,noticed that it is getting rubbed with my wheel arc on speed breakers and potholes.I am planning to go for R15/65/200 or R15/60/200.....would this affect my car handling and other stuff? What would you recommend?
5
T
tanmay
Jul 5, 2011 5:46:26 PM
I meant keeping the front and rear tyres of different specifications
फिएट लिनिया यूज़र रिव्यू
सभी (92)
Mileage (46)
Performance (19)
Looks (52)
Comfort (50)
Engine (37)
Interior (28)
Power (23)
More ...
I was given with this beauty by my father when I was in the final year of my College, Back in 2010, I found its styling and it's electrical equipment, like the ...और देखें

Linea is not a car it's virtually a tank on road it is so impressive as a sedan. The mileage is very good and it gives positive vibes it looks cool when we park it also h...और देखें

I have a 10-year-old 2009 Emotion Pk Petrol. A brilliant car that never lets me down. She has a luxurious and quiet cabin. I drove a BMW while in the US and the comfort o...और देखें

My Linea is excellent and doing a great job even after 7 years. I still get 20+ mileage and the engine is superb after using 1.3 lakh km It has great safety features and ...और देखें

I bought the Fiat Linea in 2012 and the performance to date is very good. No rattling sound at 100 Km speed. No vibrations due to excess speed on highways. The engine is ...और देखें

I got lenia multijet 1.3 emotion diesel and it's very nice on average. And it is very comfort too. Big space and No.1 in pick up.

It is nice, strong, beautiful and rouble free car. It is very good for family travel. Good model and designe of the car.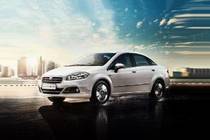 Rs. 7.22 लाख - 10.76 लाख*
इस कार मॉडल की समय सीमा समाप्त हो गई है
यूजर्स द्वारा इन्हें भी देखा गया